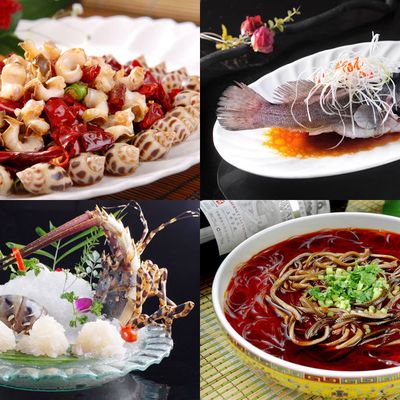 Some of the restaurant's dishes.
Photo: Guan Fu
During his tenure as the New York Times restaurant critic, Pete Wells has occasionally dropped by Flushing and bordering neighborhoods. He has awarded a single star to both Biang! (which later relocated to the East Village, then closed) and Dumpling Galaxy, and he gave two stars to Lake Pavilion and the Sichuanese restaurant Little Pepper out in College Point. (New York's Adam Platt also named those last two among the city's best places for Chinese food.) But Wells has never awarded a Flushing spot three stars; that tends to be the domain of restaurants both pricier than what's found in the neighborhood and those from bigger names, such as David Chang's Ssäm Bar, Major Food Group's Carbone, Mario Batali's Casa Mono, and Alex Stupak's Empellón — until now. The Times critic has awarded an enthusiastic three stars to Guan Fu, which he calls "a new kind of Sichuan restaurant" for this city. It's a ringing endorsement, and something of a statement.
It's worth pointing out, as Wells does, that the restaurant is located in the more upscale One Fulton Square development. Of the owners, China natives Li Boru and Xue Wei, Wells says they "wanted to open a restaurant that would evoke the aristocratic cooking of China's dynastic era." His praise for that cooking is nearly universal, and he finds both excellent versions of the expected — such as mapo tofu with a "sauce as deeply flavored as any I've tasted" — and the unexpected, including a cuttlefish salad with a blackened green chili sauce that "tastes almost Mexican." Needless to say, you might want to pay Guan Fu a visit.