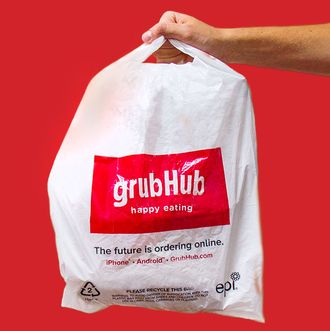 Get ready for a bunch of angry delivery rants.
Photo: GrubHub
Another day, yet another major food-industry merger: GrubHub has gobbled up Eat24, Yelp's delivery service for restaurants. The delivery giant paid a lot more than Yelp did when it bought the company just two years ago, too. The all-cash deal is worth $288 million, reports say, which is well over double the $134 million Yelp spent to acquire Eat24. The merger is effectively Yelp's acknowledgment that food delivery — a hairy business proposition right now, to be sure — is best handled by someone, anyone, else.
As part of the move, GrubHub and Yelp also reportedly agreed to a five-year partnership that will integrate Yelpers' reviews into GrubHub's restaurant listings, meaning if your local diner comes out as staunchly anti-gay or wrongly accuses patrons of pooping themselves, you'll probably know something's afoot when you visit GrubHub.com now, too. In addition to the upfront money, Yelp will also get a cut of sales (a "partnership fee") every time somebody places a GrubHub order through Yelp.
On GrubHub's end, the deal ensures it says one step ahead of Amazon, which is breathing down its neck. GrubHub's spine is clearly getting tingly, because earlier this very same week, it also purchased Groupon's food-ordering platform, OrderUp.
According to analysts, Eat24 only represents about 16 percent of all online restaurant deliveries, versus 34 percent for GrubHub and 20 percent for UberEats. Yet all told, the platform still has about 40,000 restaurants, compared to GrubHub's 55,000. There's a lot of overlap, but the combined restaurant total should stretch to about 75,000 — so your weeknight dinner hunt should be getting more diversified soon. GrubHub's CEO Matthew Maloney calls the merger "huge for both companies."