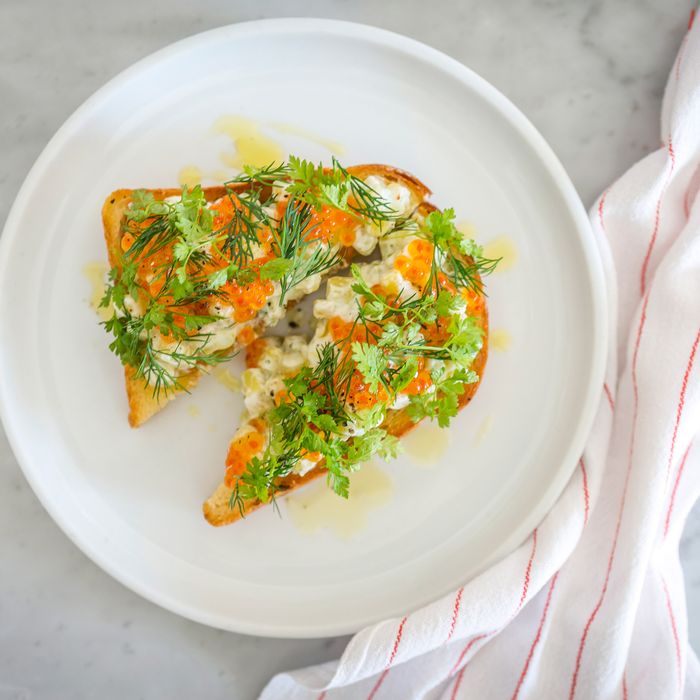 Summer-bean toast with trout roe, yogurt, and dill.
Photo: Noah Fecks
After five years and two locations, Gabriel Stulman closed Perla, his most upscale restaurant, last month. He's quickly pivoted by opening Fairfax in the same West Village corner space: a more casual, all-day café modeled after relaxed European wine bars. It'll open at 8 a.m. daily with a breakfast menu that includes an omelette with pattypan squash and grilled-apricot toast. At 11 a.m., the menu transitions with small plates like steak tartare and white-bean hummus on flatbread, plus an extensive wine list, and Fairfax stays open between 10 p.m. and midnight throughout the week.
Fairfax is filled with couches and communal tables — a first for Stulman — making it feel like a real living room, or the tiny, Platonic ideal of a hotel lobby bar. Stulman and his wife, Gina, are avid furniture collectors, and they're using pieces from their personal collection in the space. "When I get a chance to relax at my home, I'm always alternating between the living room and the dining-room table," he says. "We designed it so there are all sorts of nooks and crannies, some with sofas and coffee tables, and others with dining tables. At our home, we probably eat an equal number of our meals on the sofa over our coffee table as we do at our dining table, and we hope we're not alone." The design is also flexible to parties of different sizes — you can post up in a corner and take over, adding friends and entertaining like it's your own place. Even on opening night, Fairfax already felt lived-in and comfortable, like a neighborhood house party.
As much as Stulman's blurring the line between restaurant and bar, he also wants Fairfax to serve the functions of a great coffee shop. "The idea is that people think of Fairfax in the morning as a place to have breakfast meetings, or to come solo and work," he says. "As the day progresses, we hope the laptops begin to go away, and Fairfax flows easily right into a casual dinner-party vibe."
It was important to Stulman that he offer a great experience at a lower price point, and the average dish here costs $16. Last year, he removed and then reinstated tipping, and he acknowledges that this, too, is an experimental financial model. "It's our hope that by having those extra hours and lower barriers to entry, we'll do the volume to make up the difference," he says. "There are a lot of people looking for the quality and hospitality that we, and so many others, offer, but at more accessible, everyday, repeatable prices." Take a look.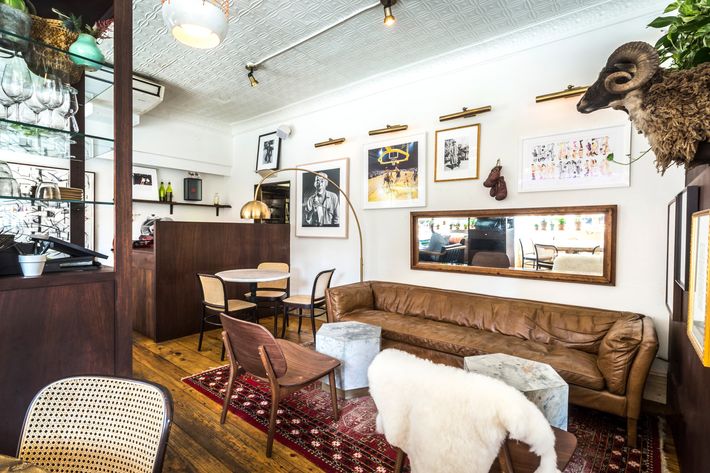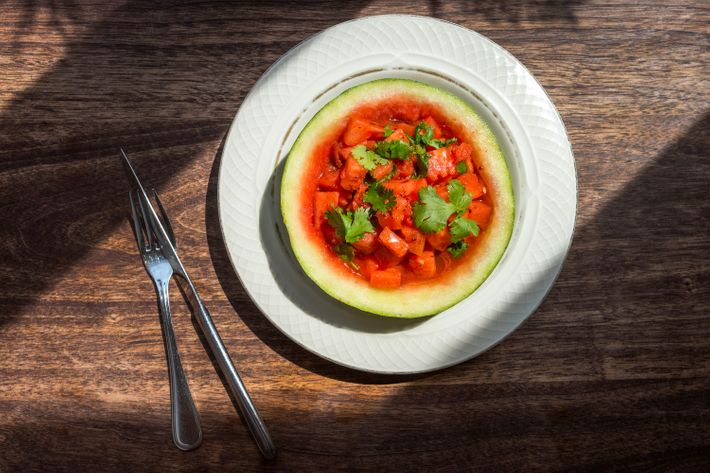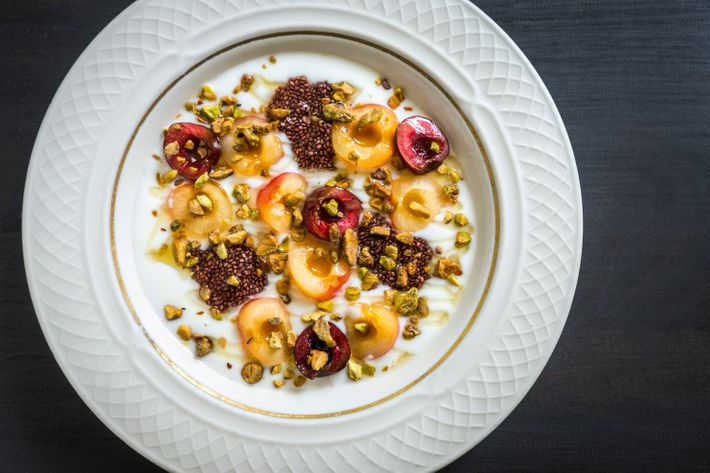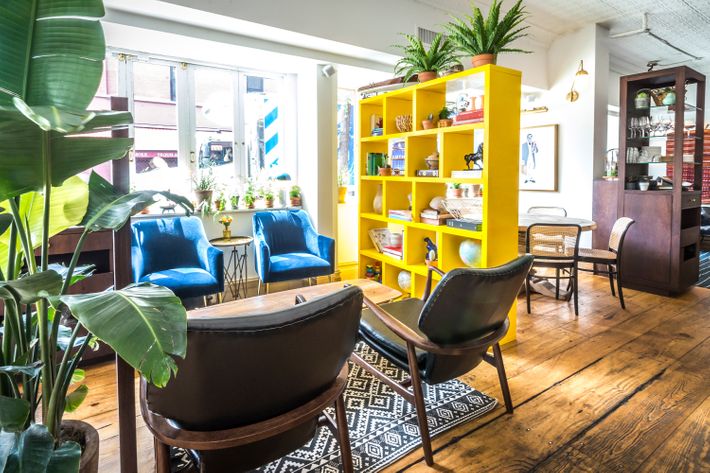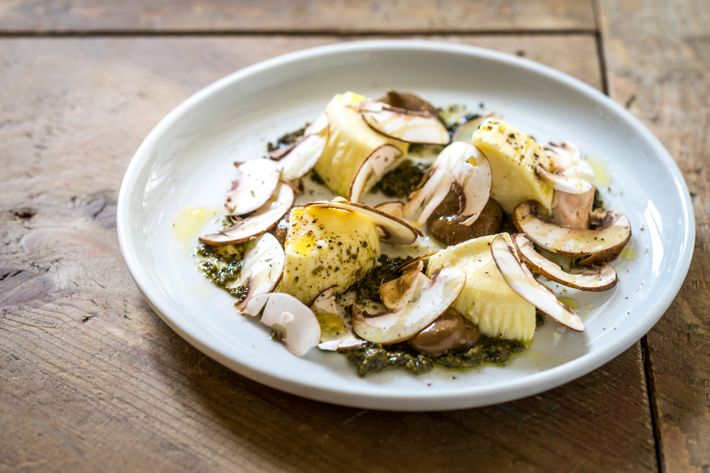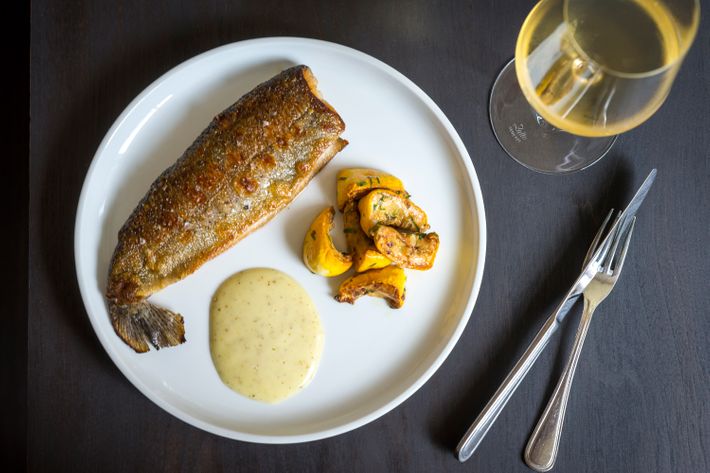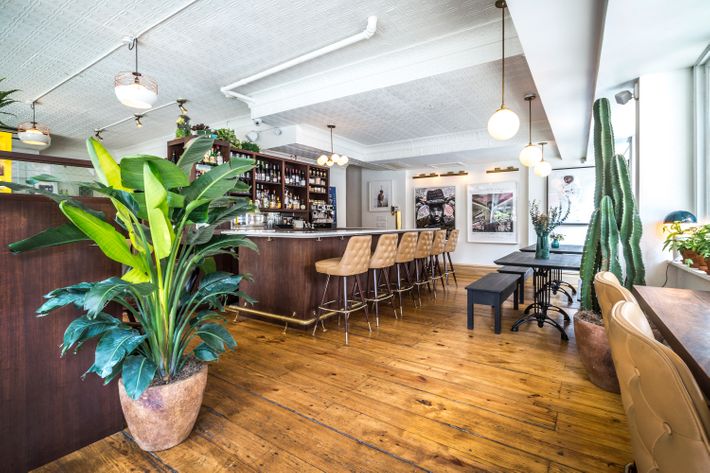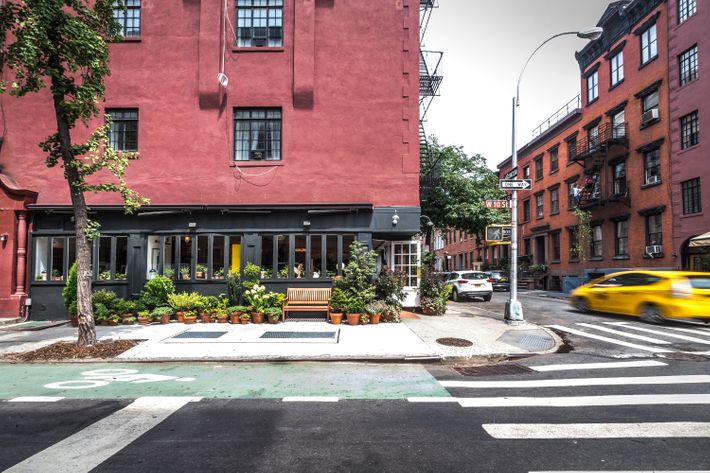 Breakfast [PDF]
Brunch [PDF]
Dinner [PDF]
Drinks [PDF]
Fairfax, 234 West 4th St.; no phone (walk-ins only)