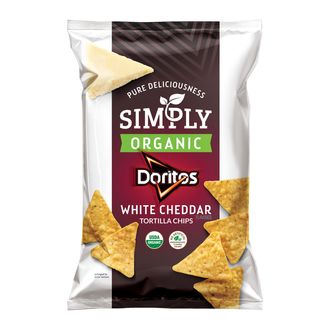 Complete with an all-natural-looking bag.
Photo: PepsiCo
USDA-certified organic Cheetos and Doritos may sound like something out of the next dystopian Margaret Atwood novel, but the future of Whole Foods–friendly junk food is actually here now in the form of Frito-Lay's latest snack line, Simply. Parent company PepsiCo has been on an all-natural kick for a while (you may recall organic Gatorade, which debuted last August). This new push by its chip subsidiary — which, besides Doritos, has also trotted out preservative-free versions of sea-salt Ruffles, Tostitos scoops, cheddar-jalapeño Cheetos, and seven other "core chip brands" — is an attempt to offset flagging sales with products that are still identifiably Frito-Lay, but "better" for you.
The Whole Foods–y veneer is hardly accidental, in other words. In fact, Bloomberg News reports that bags of these new chips satisfy all the criteria for products sold by the chain. It seems Frito-Lay executives figure that the grocer being gobbled up by Amazon is good for their cause: Whole Foods was pretty against the idea of Ruffles on the chip aisle (to say nothing of Cheetos or Funyuns). But if Amazon morphs Whole Foods into a formidable organic e-retailer, some smaller brands the chain uses may be unable to keep up. The thinking goes that Amazon might turn to Big Food to pick up the slack, assuming it has products that tick off the right organic boxes.
PepsiCo will only say it's working "on several fronts" to reach "the type of shoppers who frequent Whole Foods." Getting there, though, may require encouraging consumers to be more imaginative: According to Frito-Lay's chief marketing officer, right now they need "some convincing." That's ostensibly the point of the package redesign — "Simply" appears in huge letters and flanked by the phrase "Pure Deliciousness," while the normal brand logo is much smaller down below.
Here are the ingredients listed on the back of Nacho Cheese Doritos:
Corn, vegetable oil (sunflower, canola, and/or corn oil), maltodextrin (made from corn), salt, cheddar cheese (milk, cheese cultures, salt, enzymes), whey, monosodium glutamate, buttermilk, Romano cheese (part-skim cow's milk, cheese cultures, salt, enzymes), whey protein concentrate, onion powder, corn flour, natural and artificial flavor, dextrose, tomato powder, lactose, spices, artificial color (including yellow 6, yellow 5, and red 40), lactic acid, citric acid, sugar, garlic powder, skim milk, red and green bell pepper powder, disodium inosinate, and disodium guanylate.
Compare this to what's on the reverse side of the Simply analogue, a White Cheddar flavor:
Organic corn, organic expeller-pressed sunflower oil, organic cheddar cheese (milk, cheese, cultures, salt, enzymes), organic maltodextrin (made from corn), sea salt, organic see cream buttermilk, organic tomato powder, natural flavors, organic onion powder, organic butter (cream, salt), organic skim milk, organic spices, citric acid, organic garlic powder, organic cream, and lactic acid.
Shorter, but still incredibly long. It's also worth noting that the Simply version really isn't any healthier. It has eight grams of fat and 170 milligrams of sodium, versus eight grams of fat and 210 milligrams of sodium for normal Doritos. Simply has effectively no extra nutrients, either, and it somehow manages to pack another ten calories into every serving.