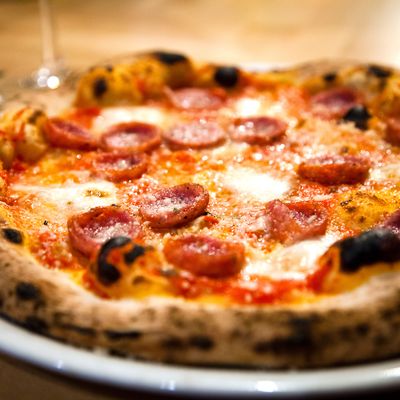 Franny's ushered in a style of food and service that defined the borough for a decade and a half.
Photo: Dominic Perri
In 2004, when Francine Stephens and Andrew Feinberg opened Franny's on an otherwise uncharming stretch of Flatbush Avenue, A-Rod was starting his first season as a Yankee. Bernie Madoff's Ponzi scheme was humming along, Arthur Miller and Rosa Parks were alive, and the popular concept of "Brooklyn" was still firmly in the grasp of Spike Lee and Jay-Z. "In 2004, you didn't eat on Flatbush Avenue. It was all ticky-tacky little stores. Their first location used to be a pet store," says Melissa Clark, the Times columnist and food writer who co-wrote the Franny's cookbook. "It was the absolute beginning of the trend of casual fine dining," she says. "Now, we have so many. Superiority Burger is normal. Brooklyn even has places like Faun. But they were first. And they were right. They filled a need we didn't know we had."
At the time, the idea was simple, but also quietly revolutionary: A casual, relatively affordable restaurant offering pizza and straightforward Italian food, made and served with the same care it would receive at a fine-dining restaurant. "All we knew was there was a guy curing sausage in his basement and he was opening up a pizzeria," says Adam Kuban, who created the influential pizza blog Slice in 2003. "Charcuterie in Strollerville! Are you kidding me? I went on opening day."
Even though the restaurant opened with a short pizza menu, its offerings grew in both scope and ambition over the years. (Prices went up, too.) The clam pizza was always the thing to order, and a terrine of beef tongue and pork cheek. Salads were more intricate and unexpected than they were anywhere else — fresh citrus with red onion and green olives, pole beans showered in vinegar and cheese. For dessert, the impossibly silky panna cotta was a rebuke to anyone who uses vanilla as a synonym for boring.
Along with restaurants like Frankies, which opened in Carroll Gardens that same year, and Al Di Là in Park Slope, Franny's created a kind of Brooklyn-Italian mash-up cuisine that would further help define the borough's restaurant scene. Feinberg was the chef at the beginning; Danny Amend took over as chef de cuisine and eventually handed the kitchen over to John Adler. "Franny's opened because two people with amazing palates and clear vision opened the European ideal of a restaurant," Adler says. "It was on New York soil, but it was Italy — it was like eating in another country." Adler came to Franny's from Per Se, high-level experience that was perhaps uncommon in most neighborhood trattorias, but wasn't unusual at Franny's. "The kitchen was all from Cru, Chanterelle, Per Se, Tabla," he explains. "Half of the servers were from Lupa."
It was, to almost all observers, an extremely successful model, driven largely by a saccharine throwback: ideals. "They realized that if you eliminate the trappings and focus on sourcing and service, you'll have a great restaurant," Adler says. "You're not taken by the Julian Schnabel on the wall. It's just about the food … That was not always a given and now it is, and that's because of Franny's."
The restaurant already closed once, in 2013, though that was only so it could move to a bigger space a few blocks away. Now, it's closing for good, even though it remains as popular as ever. Stephens, who also sold the grocery store Bklyn Larder earlier this summer, won't say why — she denied repeated requests to offer any further insight — and friends aren't talking, either. Neither is the staff, who, when asked about the closing, will only say, "It's time."
Maybe it is time. The "Brooklyn" that Franny's ushered in is the Brooklyn you've been tired of for years, but which was at the time a completely fresh, mind-opening approach to running a business. Julie Reiner opened Clover Club in Carroll Gardens in 2008, after moving to Park Slope in 2006. "In Manhattan, we were teaching people how to drink gin and they'd ask for Cosmos anyway," she says, "but in Brooklyn, the crowd was just more open. Brooklyn kind of stood for that. You could say Brooklyn and it was shorthand for all these ideas, and they were all amazing."
In the end, Brooklyn™ achieved such fandom, and we loved it so much, that we set it free: in London and Sydney and Nashville and Paris (remember "très Brooklyn"?). It got to the point that the New York Times lectured its reporters to stop anointing every hip neighborhood "the Williamsburg of …" Even the most ambitious restaurants now are lacquered in family-friendly gloss and include stroller parking — and every restaurant staff in America can tell you the cradle-to-plate biography of what you're eating.
"Three years ago, I took my wife to Tokyo and we went to this bar someone had told me to try," says Dale Talde, the chef who has operated a handful of Brooklyn restaurants over the years. "I walked in. They've got a handlebar mustache. Playing obscure indie rock on vinyl. I think there was a Michelada on the menu. I was like, 'What the fuck?' I could've gone down the street — I didn't need to go to Tokyo for that."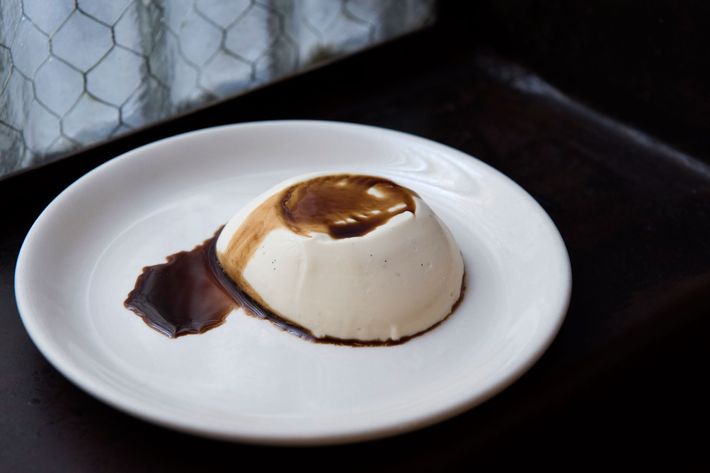 Back in actual Brooklyn, gentrification and cultural development have reached a saturation point that doubles as an inflection point, a matriculation point. When Franny's opened, the vanguard it heralded in Prospect Heights was mentioned in passing. Last month, the arrival of a sandwich shop and bar called Summerhill in Crown Heights was met with open resistance. (To be fair, Stephens and Feinberg never bragged about any bullet holes being in their walls.)
Gentrification is not wholly about white interlopers — although the bougie swath of waterfront nabes we tend to lump together as "Brooklyn" are some of the fastest-whitening Zip Codes in the country — but whatever the race of the borough's wealthy displacers, their ravenous hordes contributed to the blanching of the borough. This Brooklyn-as-cosmopolitanism affectation has ingratiated and entwined itself not just into the Zeitgeist but into the DNA of the city as well.
As a cultural phenomenon Brooklyn isn't over; it's the norm. It's the way things are, and it's become so ingrained in the world that you barely even notice it anymore. Franny's superlatives still hold up, and the restaurant remains special, just not uniquely so. Like an Instagrammable sunset, it's wondrous but routine.
"You're no longer the standout because everyone is catching up to you," Clark says. It's gotten to the point, after all, where even McDonald's sells sriracha-kale burgers. "But I know that this is what they want," Clark says of the owners' decision to close Franny's. "They want dining to be this. You should be a thinking link in the chain. It brought so much power to food, to choice, to customers, and to staff. People came for that. They came for pizza, but they also came for the care put into it. It was a lesson in caring."
The Instagram post announcing Franny's closure only promises, in the vaguest of terms, that it "will continue in some way in the future." It's not hard to imagine that happening. There are a million places where Franny's could reopen. That wasn't the case in 2004, but in 2017 — due in no small part to Franny's itself — it's Brooklyn as far as the eye can see.