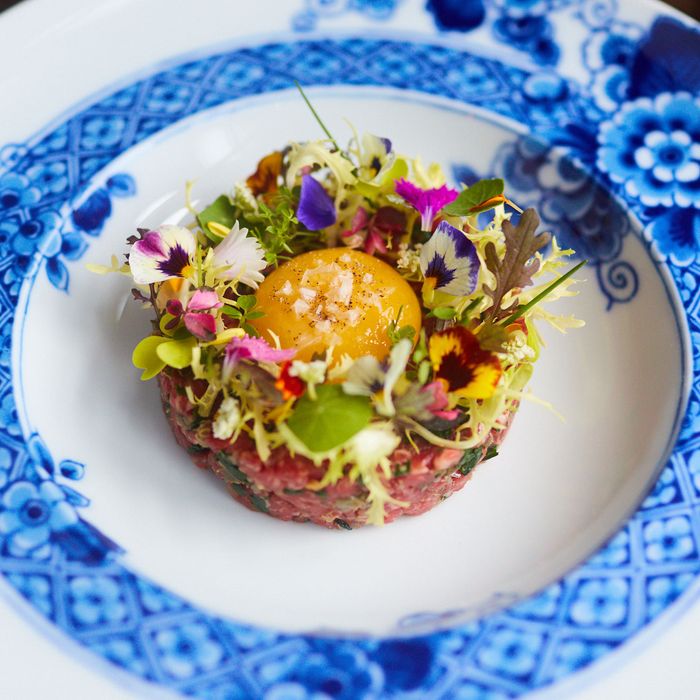 Steak tartare.
Photo: Miachel Breton
Not too long ago, ambitious out-of-town chefs announced their arrivals in New York with equally ambitious, circus-sized restaurants. But in this fractured era, as the cost of doing business in Manhattan rises, and the city's influence as global culinary tastemaker slowly wanes, the fancy chefs tend to come tentatively, in little baby steps, if they bother to come at all. That's what I thought, anyway, as I sunk ever-deeper into a well-worn leather chair and sipped a gingery, frothy, smoky, strangely seductive $23 cocktail called the "Gran Classico," which you can try for yourself at a new Columbus Circle bar called the Office NYC.
This small drinking den, on the 35th floor of the Mandarin Oriental hotel, is the first New York venture from chef Grant Achatz and his business partner Nick Kokonas. Achatz, as any avid food groupie knows, is possibly the preeminent chef in the entire USA and his restaurants, which are all in Chicago, are commonly considered to be among the country's very best. But the Office is not a restaurant at all. It's a small speakeasy bar, set behind a larger, more ambitious venture called the Aviary, which is still under construction and should be open for business next month.
Achatz made his name with elaborate, avant-garde creations at Alinea, of course, before opening the original version of the Aviary in Chicago, which is famous for equally futuristic cocktails, the most distinguished of which arrive at the table in, say, a sealed plastic bag or a vessel called the "porthole," a translucent canteen-shaped flask that allows drinkers to see the small, carefully arranged bonsai garden of herbs, fruit and aromatics infusing the drink inside. Below that Aviary is the first Office, the traditional yin to the Aviary's cutting-edge yang.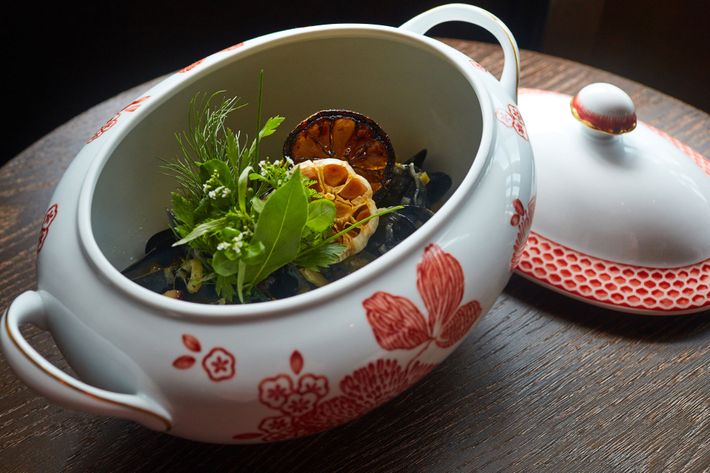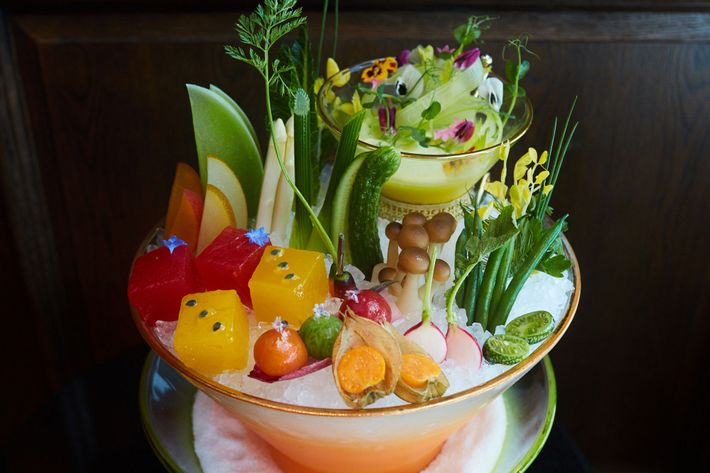 It's still a bit of a surprise that in New York, Achatz would first open this clubby, dimly lit Edwardian room — technically called the Office NYC — filled with cabinets, bottles of collectible old spirits here and there, bar chairs patterned in cowhide and waitstaff dressed in ye olde saloon vests. "This looks like someone's idea of a 'New York' bar in Hong Kong," commented one of the boozehounds along for a first taste of the menu, as we peered around the room, like two old club gentlemen, over the tops of our drinks.
You probably won't find a "New York" style bar in Hong Kong, or anywhere else, serving an elaborate, $40 version of steak tartare patterned with tiny edible flowers ("I will give you time to take pictures," our animated server says, "the flowers took ten minutes to arrange — it's a work of art!"), not to mention $600 martinis (made with ancient Tanqueray sweet gin, under the "Dusty Bottle Cocktails" selection of the drinks menu), or sips of Hector Romain cognac, dating back to 1835, which retail here for a cool $1,200 per ounce.
Big-ticket antique spirits are almost always underwhelming in my limited experience (I once sipped some 100-yea- old Scotch that tasted more like paraffin oil than whisky), so on this visit we stuck to agreeable, if slightly overworked cocktails, which include that weirdly pleasing Amaretto Sour made with the Cynar artichoke liqueur and black truffle, and a tropical rum creation called "Passionfruit" that included mustard of all things and tasted, according to the boozehound, a bit like washing down a classic New York hot dog with an icy cold papaya drink.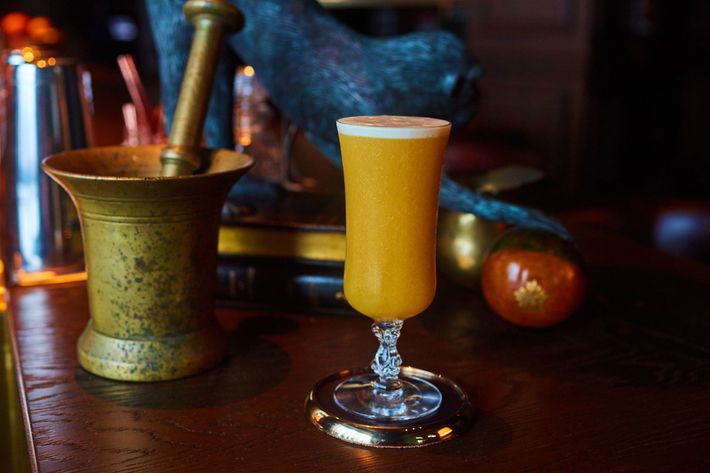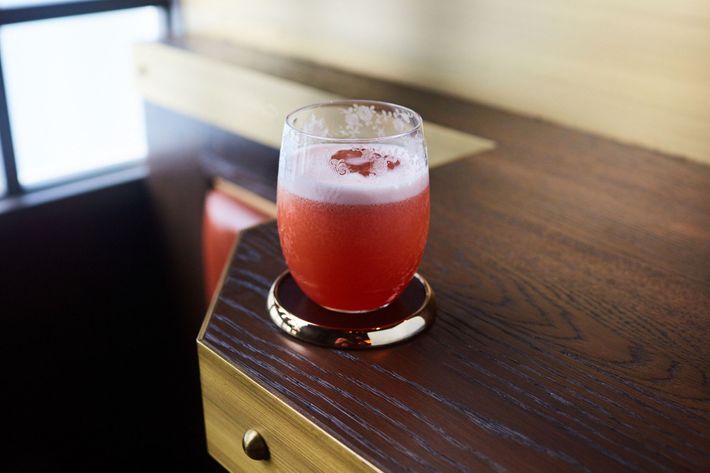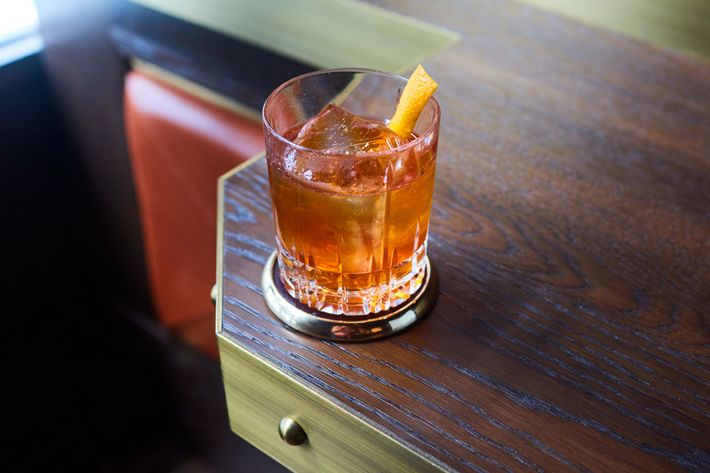 The festive beef tartare is a more conventional (and generally delicious) creation, and so were the other nonliquid bar snacks we sampled. They included chunky salmon rillettes flavored with lots of herbs, and a vapor-smooth foie gras terrine enhanced by a little pot of house-made strawberry-tonka jam on the side. A volcano shaped presentation of Ibérico ham floated by, but we ordered the steamed mussels instead, which were flavored with lemons, fennel, leeks, garlic, and bits of bacon, and served with fresh baguettes to mop up the broth at the bottom of the bowl.
It's not exactly the kind of culinary pyrotechnics Grant Achatz is known for, but as the chef himself appeared at the bar door, looking pale and intense and even a little disoriented, like an outer-borough artist who had wandered in from his studio garret to mingle among the midtown hotel swells, it's enough to whet this jaded New Yorker's appetite for what's sure to be a bigger, brighter, more ambitious fireworks display when the Aviary finally arrives.