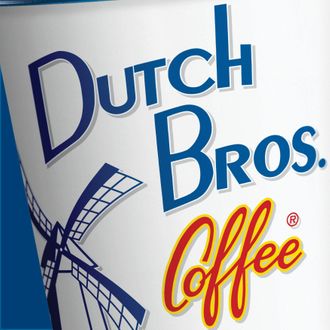 They don't want you blinded by the light.
Photo: Facebook
If you had high hopes of watching the eclipse with a pair of the free protective glasses that Dutch Bros. Coffee distributed in the run-up to today's once-in-a-lifetime event, there's some bad last-minute news: They might not work. The 284-location chain — which is based in Oregon, a state that's on the so-called "path of totality" — had been passing the glasses out to customers who bought a large drink. They were supposedly advertised by the manufacturer as certified-safe viewing devices, but Dutch Bros. now says "further investigation has led us to question this certification." Looking at the eclipse with glasses that aren't properly tinted (they reportedly need to be 100,000 times darker than normal sunglasses) can damage the retina, and even blind you.
Unfortunately, the chain realized the mistake pretty recently. In fact, very recently — it started posting recall notices on social media last night at about 10 p.m. Pacific time:
Dutch Bros. hasn't told the media how many pairs were distributed. But according to the wording in the recall, they were available at "many" of the chain's locations. Also, per the angry comments now flooding the chain's social media, customers waited up to three hours in line and some locations ran out entirely.
It's nice that Dutch Bros. doesn't want its customers going blind, but given that eclipse glasses are in such short supply in the Northwest, people are still livid. "Well that's annoying," one customer noted a few minutes after the Facebook notice went up, "considering it's 10:30 pm and this was the one thing my daughter (14) was looking forward too and I got up at the ass crack of dawn to get them for her." Another wrote: "Pisses me off getting up at 4 in morning waiting in line to get these for my kids and they are unsafe thank you for the warning but this was all we had to watch it now we cant."
Customers who return theirs can at least get a free drink to sip on while diverting their eyes from the marvelous eclipse.