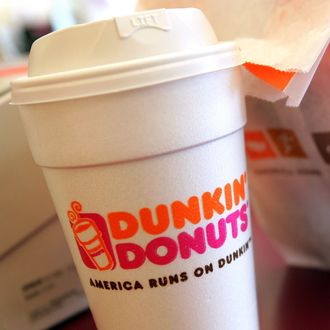 Guess "Dunkin'" is what you do with the milk into your coffee?
Photo: Tim Boyle/Getty Images
It seems America's biggest doughnut chain has decided its extremely well-known name is sending consumers the wrong message, sort of à la Kentucky Fried Chicken or that mid-century pancake-house chain Sambo's. Per a report by Nation's Restaurant News, a new Dunkin' Donuts location in Pasadena, California, is going to call itself merely "Dunkin'" — an attempt to get away from doughnuts, much like using initials supposedly helped KFC's food sound less fried, and Sambo's became "Jolly Tiger" to escape a hella racist 1899 children's book called The Story of Little Black Sambo.
The company explains that as "the number one retailer of donuts in the country," it's still going to sell them, just much more covertly now. (Though the consequence of the name change may be confusion about what's being vaguely "dunked" inside stores — like, are Dunkaroos back? Is this some sort of extreme NBA partnership?) Dunkin' coffee apologists do exist out there, but this fact may have gone to the chain's head: In a statement, it explains the decision to test signage that opts simply for "Dunkin'" is part of an effort to "reinforce that Dunkin' Donuts is a beverage-led brand and coffee leader." Isn't this a slap in the face, though, to the hardworking R&D team behind Dunkin's sugar-coma-inducing Double Chocolate Cake doughnut, its unapologetic Cronut ripoff, and the crown jewel of all fast-food confectionery, the Peeps doughnut?
For what it's worth, the company argues this is definitely "not" a departure from its current branding. A rep tells NRN, "We have been referring to ourselves simply as Dunkin' in our advertising for more than a decade, ever since we introduced our 'America Runs on Dunkin'' campaign." Regardless, things are already moving in a decidedly rebranding-esque direction: Depending on how the change "performs," the shortened name could roll out at more locations as early as mid-2018.