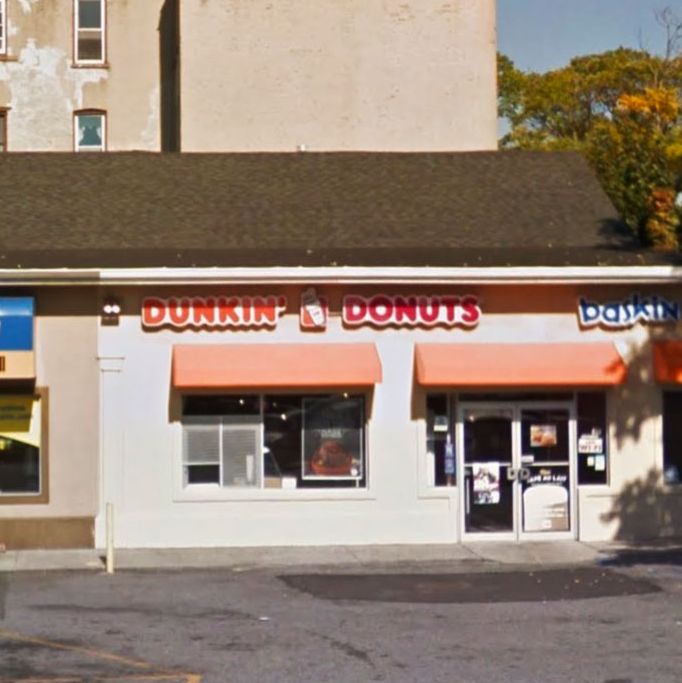 The scene of the crime.
Photo: Google
For some reason, Dunkin' Donuts cannot stop digging its own grave with the NYPD. It faced a whirlwind of bad press after two cops were reportedly denied service at a Brooklyn Dunkin' Donuts last Sunday. The franchisee tried to "personally apologize" to the officers, who say they tried ordering ice cream at a Dunkin'/Baskin-Robbins combo store in Bed-Stuy, but a worker ignored them and helped the next person in line. When they asked what was going on, the worker supposedly told them, "I don't serve cops." The franchisee's apology wasn't enough for the force's detectives union, however, and on Thursday the group's president demanded a formal sorry from the chain itself. "Dunkin' Donuts corporate should issue an apology to the NYPD," he said. "Until that happens, I have asked detectives and their families to refrain from patronizing the stores."
But Dunkin' didn't seem in a rush to add anything to its original statement — boilerplate that noted the chain's "long history of supporting local law enforcement" — until this weekend, presumably because the New York Post kept breathlessly updating the corporate office with the latest boycott drama. On Saturday, a rep finally gave the paper a new statement, and it didn't exactly calm the waters. It suggests the officers were refused service because they ordered from the wrong spot in the store:
Dunkin' Donuts suggested Saturday that the "layout" of one of its Brooklyn shops is actually to blame for the rude treatment a pair of NYPD cops experienced there. … [Spokesperson Michelle] King said the store's configuration "put both the crew members and two officers in a difficult situation because it was not clear where to order," adding there are two registers, but only one is routinely staffed.

"The franchisee has informed us that he has made temporary adjustments to the store signage to be followed by a more permanent solution to avoid situations like this in the future," King said.

She added: "The franchisee posted a temporary sign on the ice cream dipping cabinet that states to guests to place their order at the Dunkin' Donuts register."
The Post notes that police are "stunned" by this latest twist, calling it "an insult to all members of law enforcement" and arguing it amounts to saying the officers "were too stupid to know where to order." The officers argue both registers had clerks that day. The boycott's now grown to include the NYPD captains union as well. Doing its best to keep this controversy alive, the Post ran yet another story yesterday that says cops were spotted walking into their precinct with "trays full of what appeared to be generic corner-market brew." They asked a patrol cop at Union Square if he'd give directions to a local Dunkin' Donuts, and he told them, "I'm not allowed to do that." One of Dunkin's regional vice-presidents also reportedly sent franchisees an email blast this weekend telling them not to talk to press, suggesting the chain might just keep playing hardball.