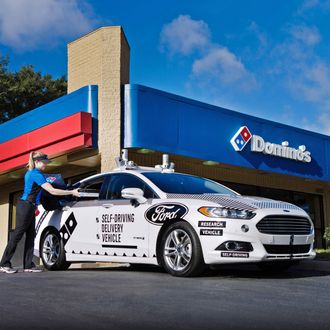 That pizza's got no legs.
Photo: Ford
No reason for alarm or anything, but today Domino's says it's putting the first driverless delivery cars on America's roads. It's starting things off slowly — it partnered with the autonomous-vehicle team at Ford Motor Company to see if customers even "like the idea." For their joint test, "randomly selected" people in the Ann Arbor, Michigan, area will now get the option to have pizzas deliver themselves in a very hazardous-looking Ford Fusion Hybrid.
This driverless-car test should be asterisked, though. In a pretty monumental letdown, the cars won't be self-driving just yet. Behind the wheel will be a sentient being — specifically, a Ford safety engineer. Other researchers will also be aboard to help fine-tune the newfangled technology, which the VP of Ford's autonomous-vehicle team warns is "not ready to be put on public streets" (so drive defensively, Michiganders). But this group, no doubt the world's highest-paid delivery team, will still be responsible for ferrying pizzas to hungry, paying customers. Orders can be tracked via the Domino's app. When one arrives, customers will go to the rear and use a code to pop open the so-called Heatwave Compartment, an onboard warming oven that stores their pie.
"We're interested to learn what people think about this type of delivery," Domino's said in a statement to the Verge about the trial. "The majority of our questions are about the last 50 feet of the delivery experience." Presumably, these are questions such as: Are people extremely annoyed at having to retrieve their own pizzas from the curb, or just a normal amount of annoyed? What happens when a storm hits mid-delivery, and both sides end up in a standoff? How many people will try chatting with the car like it's the Trans Am from Knight Rider?
No matter the answers, Domino's test does confirm at least one thing: The pizza-delivery person is extraneous. The chain honestly had a history of making drivers feel underappreciated, even before this news that their jobs may be going obsolete. (For instance, New York attorney general Eric Schneiderman has won nearly $2 million worth of wage-theft settlements against the chain in recent years.) So this isn't likely to make your local pizza guy feel any more secure about his occupation, although if he asks nicely, the autonomous vehicle might let him ride shotgun before demanding his parking spot.