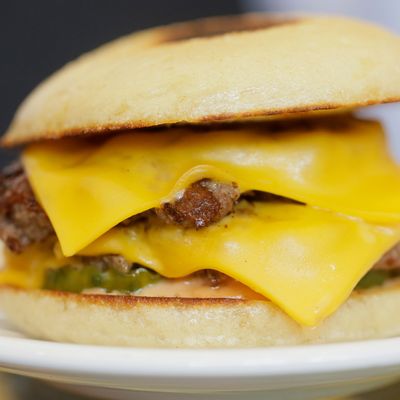 Two patties, American cheese, and a custom bing-inspired bun.
Photo: Steve Freeman/USTA
David Chang is not big on burgers. Notwithstanding the plant-based Impossible Foods burger at Momofuku Nishi, he has, in fact, dodged the tidal wave that has strewn trendy cheeseburgers onto menus across the planet.
But now, Chang has relented — sort of. At the U.S. Open, which starts on Monday, he'll debut the 163 Burger, which is named for the first Fuku location at 163 First Avenue in Manhattan, and which will run you $14. Last year, he offered his habanero-marinated, spicy fried-chicken sandwiches, but at his double-wide Fuku stand, housed in what the Open calls Food Village, he wanted to offer something new. "This year we had to go one up," he said at a preview at the USTA Billie Jean King National Tennis Center earlier this week. "We decided to do something we've never done before."
The ingredients of Chang's burger creation don't jump off the page. They're impressive, but still somewhat pedestrian: two medium-rare patties of a custom Pat LaFrieda beef-brisket blend, American cheese, and "special sauce" that involves Momofuku's trademark chickpea hozon. Instead, the true power of this burger lies in what is often the most overlooked part: the bun.
A mere Martin's roll simply won't do for Chang. This burger is sandwiched in a slightly chewy, mochilike Chinese-style bing bun that Chang developed in partnership with Harlem's Hot Bread Kitchen, where the wheat-based, yeasted bread is made. It's then finished on the grill at Fuku, giving it some warmth and a salty, crispy exterior.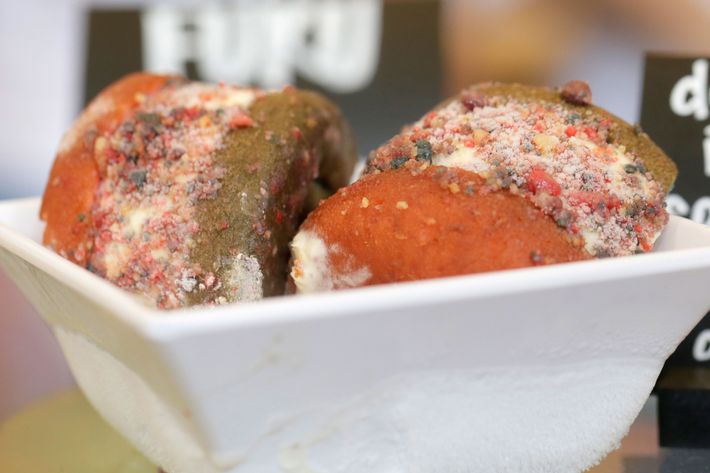 It also serves as something of an amuse-bouche for Fuku's other big offering this year: An $8 vanilla ice-cream sandwich from Wylie Dufresne that swaps out cookies for berry doughnuts from Du's, specifically one strawberry side and one blueberry side (extra points for the red, white, and blue nod).
Neither is available outside of the U.S. Open — for now, anyway — so if you want to check them out, get a ticket to the tennis tournament, which runs through September 10.