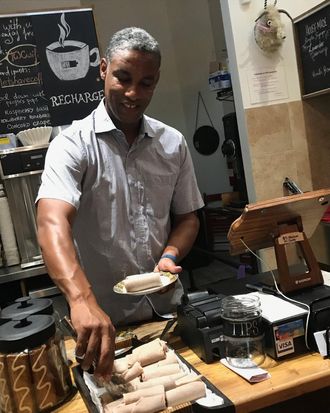 Co-owner Elias Gurmu, who's definitely not doing this right now.
Photo: Cafe Buunni/Facebook
Manhattan's Buunni Coffee, a café known for Ethiopian coffees micro-roasted to order, has served the uptown neighborhood of Hudson Heights for five entire years now. As a big thank-you to staff — their actual anniversary is today! — owners Sarina Prabasi and Elias Gurmu decided to treat them to a beach day. Only problem: That meant closing the shop for the day. Luckily, the milestone was one the café's regulars were ready to celebrate, too, which they did by selflessly offering to babysit Buunni while the team got a nice tan — a plan it's safe to say probably wouldn't fly at most businesses.
Prabasi tells DNAinfo that one of their regular customers, Melody Morrow, just tossed the idea out after listening to Prabasi brainstorm solutions out loud. "The Buunni regulars could take over the shop while you guys are away," Morrow offered.
To gauge interest, Prabasi posted a Google doc last week asking people to volunteer for hourly shifts — they'd need several people per hour, for eight hours. She eventually had to yank the form, she says, "because so many people signed up." They're presumably out roasting on the beach right now, instead of doing their usual roasting of coffee beans, and Prabasi says they hope to make this day off "an annual thing." Volunteers who work a shift today are promised a gift card when the staff returns.