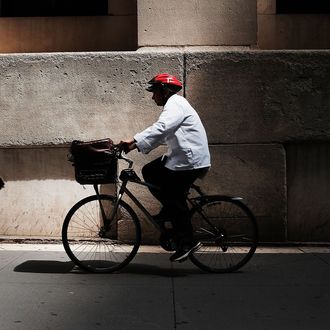 Deliveryman taking the flat, easy route so he doesn't crash.
Photo: Spencer Platt/Getty Images
Food couriers' jobs aren't tough just because they're schlepping soup around in torrential rainstorms and 12 inches of snow — they're also generally working as independent contractors à la Uber drivers and other gig-economy workers, meaning their employer legally owes them almost nothing (hourly pay, yes; but forget health or retirement benefits). Now, this model is increasingly being called out in court, and the latest challenge involves Relay Delivery, a service that works with the Meatball Shop, Pinkberry, Hale and Hearty, and several other New York City restaurants. A new complaint filed with the state's Labor Department accuses the service of committing wage theft by classifying its workers as contractors and paying them $7.50 an hour — a full 80 cents below the state's tipped minimum wage.
The craziest part of the complaint might be who filed it: Homer Logistics, a big-time rival (its client list reads very similarly: Melt Shop, Chop't, Dos Toros). Homer's shtick is that it pays around $15 an hour and offers riders medical coverage and, eventually, even stock options. Its vigilantism in this particular complaint was serious, too: Adam Price, Homer's CEO, apparently had one of his own employees work undercover at Relay to see how it was treating its workers.
But as the New York Post notes, the independent-contractor loophole may be catching up to employers. GrubHub, which is about to get even huger once it swallows up Yelp's food-delivery platform, is set to go to trial in September for allegedly misclassifying workers as independent contractors. DoorDash and Postmates — two of GrubHub's biggest competitors — have been sued for the same thing by their employees. DoorDash already settled its case, a class-action filed in California that argued that some 33,700 couriers were being screwed over; they won a total of $5 million from the company. Workers at Postmates, meanwhile, are asking for $8.75 million as part of their settlement.