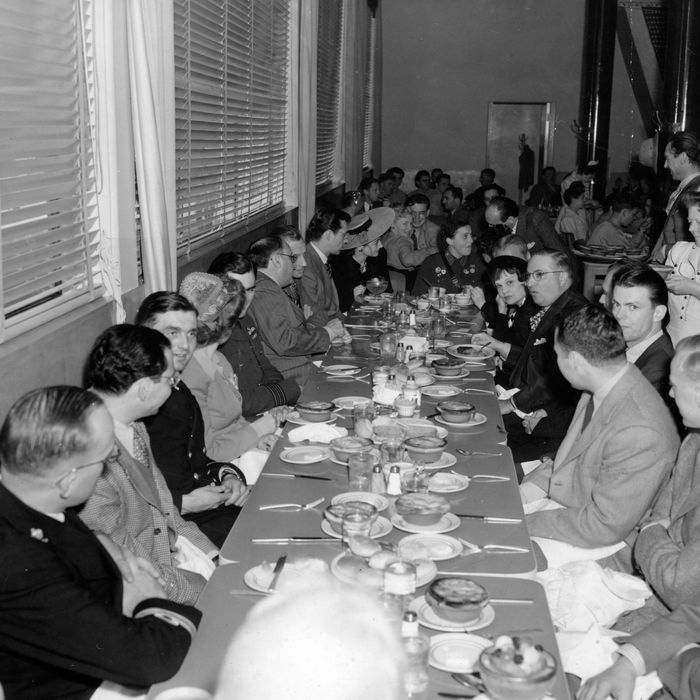 When dinner costs $100, diners should expect more.
Photo: Jim Heimann Collection/Getty Images
Not long ago, armed with a hunger for Chinese, my fiancée, Amy, and I walked into Hao Noodle and Tea by Madam Zhu's Kitchen. The name was as tongue-twister-y as ever, but it nevertheless sounded like the perfect place to satisfy our particular craving. The hostess quoted us a 30-minute wait, before fetching us in 5 because, in her words, she "was able to work some magic." Nice. We high-fived as she showed us to our seats: two tiny chairs, side by side, at a massive table for 20. Our excitement immediately turned into helpless disappointment. We'd wanted to spend time alone. Now, thanks to this communal-table situation, we knew we'd be dining in the company of strangers — the only question was, how awkward and uncomfortable would it get?
New Yorkers put up with a lot: cramped living conditions; car alarms and grinding trucks that keep us up all night; hot, crowded commutes on subway cars that don't run on time; and a cost of living that makes our city the most expensive home in America. At the very least, our restaurants should be sanctuaries from all of this. I'll share an UberPool home after dinner, but for just an hour or two, please let me have 36 inches of table space all to myself.
The idea of strangers gathering around one large table to dine together has gone in and out of favor over time. Seen as a social equalizer and the norm in 18th-century Europe, the trend became popularized in America in the 19th century right here in New York City. In recent years, communal tables have landed inside the city's dining rooms because of their flexibility and convenience for owners. Restaurants can pack almost twice as many guests into a single long table than would be possible with smaller private tables. Operators' gain is our loss.
Complaints about this arrangement are not new, either, and a 2016 Zagat survey found that communal dining was the second-biggest reason respondents wouldn't eat at a particular restaurant. (A cash-only policy was number one.) As the city's restaurants have gotten more affordable and ever more casual over the last decade-plus, communal tables became a very common sight. It's easy to see why diners were willing to let it slide back in, say, 2007: The financial demands of the city being what they are (which is to say: soul-crushing), trade-offs are expected, and it was worth overlooking a cramped dining room when it was a good way to find, say, expertly prepared gnudi covered in a gorgeous brown-butter sauce for less than $20.
Things are different now, and that only makes communal tables seem worse. They used to be something of a necessary evil. Now, they are a reason to avoid a restaurant completely. We are in the golden age of fast-casual restaurants, food-on-demand delivery apps, and all-day cafés modeled after coffee shops. A New Yorker can track down a very good meal for $15 or $30 without any trouble, so it's crucial for restaurants that charge more — places where diners will struggle to keep the tab for two people under $100 — to offer fuller dining experiences, where diners are noticeably more comfortable than they would be at a restaurant where they order from, say, a counter. Great food is now practically a given in New York. Space is the real luxury.
At Hao Noodle, Amy and I weren't as comfortable as we would have been at our own table, but that problem paled in comparison to the main issue with communal dining: You have no control over the people who will sit with you, and you might get stuck next to assholes. As Amy ordered some tomato-rice stew and I asked for the spicy fish stew, a hostess sat another couple directly across from us. Before they even sat down, they were chatty: "Does this mean we're automatically best friends for the night?"(Nope.) "Wow, are you guys getting married?! Where's the wedding? Are you super excited??" (Yes, but we don't want to talk to you about it.)
Most diners understand that cramped dining conditions require the polite application of artificial blinders: Yes, you're eight inches away from me, but if I pretend you aren't there and you pretend I'm not here, we'll both be happier. The guy across from us did not care in the least about that unwritten agreement, but our food arrived, so we thought we were safe.
We weren't. I took one tiny sip of my peppercorn-filled fish stew and my entire mouth went numb. It was one of the most bizarre dishes I've ever eaten. The broth was a hypertangy, green fish stock, and the force of the Sichuan peppercorns left a sensation in my mouth, somewhere between a heavy-handed slug of cocaine and waterboarding seltzer. I almost didn't register when our friend across the table eagerly asked Amy a question that has haunted me ever since: "Will you let me try that?"
I could feel Amy staring at me, hoping I would come to her rescue, but my shock at his departure from social standards prohibited me. I sat, frozen, as Amy ladled out a bowl of her soup. I still couldn't believe it was happening, and needed to send a message.
"Hey," I said, "if you like that, you've got to try some of mine." I slid him a bowl of my cobra venom, and he downed it in one shot.
He didn't know what had hit him and erupted into a violent coughing fit, staggering to the bathroom escorted by his concerned date. Finally, I thought, some alone time. Eventually, of course, he returned, beet-red, bloodshot eyes, and borderline furious. I feigned ignorance and asked for our check.
A few weeks later, Amy and I walked into Cosme with no reservation and requested a table for two. The wait, we were told, would be two hours. "Unless!" The hostess pivoted, hands outstretched, and pointed to a sprawling tabletop. Would we want to sit at the communal table? It's possible that a diner like our friend at Hao Noodle wouldn't sit across from us and awkwardly demand a taste of our food. But there was no guarantee, and that just isn't good enough anymore. We thanked the hostess and left, in search of nothing more than some decent food and a little bit of breathing room.
Armen Stevens is a former Hollywood talent agent turned line cook who loves eating at big, spacious tables.