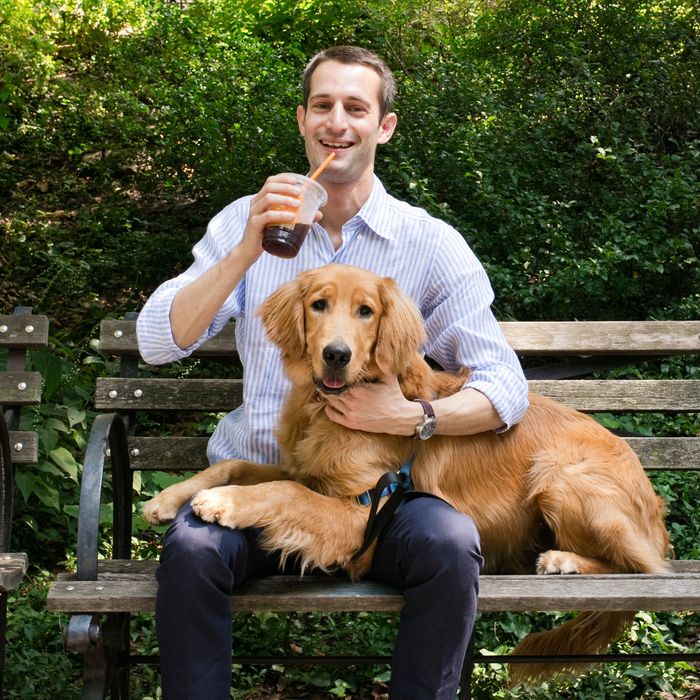 With Ruggles!
Photo: Melissa Hom
As the founder and editor-in-chief of Complex Network's First We Feast, Chris Schonberger's work involves coordinating Kanye West–themed ice-cream weeks and producing the show Hot Ones, where a celebrity guest has to eat progressively spicier wings while answering questions. (The new season recently premiered, and includes guests Cara Delevingne, Liam Payne, and Vince Staples.) This week, Schonberger ate at a few of his New York mainstays — Kung Fu Little Steamed Buns Ramen, Remi, and Pisticci — and also vacationed in Maine. Read all about it in this week's Grub Street Diet.
Thursday, August 10
Mornings are for Ruggles, my seven-month-old golden retriever–Irish setter puppy. He is already 80 pounds of pure puppy id, and he requires an insane amount of exercise to tame his lunacy. I try to take him out for at least an hour before work — we sprint around fetching balls, chasing squirrels, and having our respective chats/genital inspections with the Riverside Park locals. By the end, we both work up a powerful hunger and it's breakfast time.
For Ruggles: Defrosted venison patties that I'm convinced are better than anything I eat (no joke: The ingredients include venison liver, lamb heart, pumpkin seeds, and organic blueberries). For me: mixed berries, probably not organic, inhaled out of a large bowl while walking around the apartment.
The berries being insufficient, I pick up a croissant and iced coffee at Maison Kayser on the way to the subway.
For lunch, I make a solo mission to Remi, a pleasantly continental Italian restaurant with a to-go spinoff. I like it for many reasons, not least that it's on 6½ Avenue, which I find delightfully odd. I'm jonesing for the simple arrabiatta, but they're out, so I get a small farfalle with ham, peas, and cream sauce that's too heavy to finish. I also buy a 33-ounce Pellegrino and swig it out of the bottle while strolling down 6½ Avenue. I am a douche.
More bubbles back at the office, this time a can of Canada Dry club soda from the vending machine. Like most washed-up 30-somethings in NYC, I am a seltzer fiend; my blood type is carbonated.
Dinner is a big First We Feast team outing to El Cantinero, a festive Tex-Mex spot near Union Square. There are few things better than the semi-stale chips and liquidy red salsa at Tex-Mex restaurants, so I eat through three refills of that while drinking a Dos Equis that I didn't really want, but accept in the name of camaraderie. We share a bunch of dishes that are essentially just the same dish with different ratios of cheese, meat, and beans. The best discovery is the Quesadilla Especial, which, despite no clues from the menu, is actually a normal quesadilla with a flauta and a chimichanga on top of it. Cash back!
I eat most of the nachos and field the various queries about nacho dos and don'ts that one expects when one's Instagram handle is @nachohunters. At some point, there's a round of tequila shots in plastic cups. I'm so distracted trying to think of a non-corny toast to rally the troops that I absentmindedly bite the lime first, which actually works out well because the tequila is disgusting.
Back home, my wife, Sarah, has bought some Jacques Torres chocolate-chip cookies, so obviously I eat one of those. I ride hard for the Pret a Manger chocolate-chip cookie, but Jacques remains undefeated.
Friday, August 11
Ruggles inhales venison patties from his bowl. I inhale mixed berries while standing in front of the fridge. We are brothers from another mother.
Maison Kayser is two blocks from my apartment, and its pastries have a magnetic pull, especially the croissants. I choose my croissant based on mood: Regular if I'm feeling regular, chocolate if I'm feeling cheeky, and the ham-and-cheese if I'm hungover. Today, it's the standard-issue croissant, plus a totally out-of-character macchiato because sometimes I pretend I am going to start drinking small, civilized coffees like a European, but I always slide back into industrial vats of iced coffee eventually. The move is to eat the croissant en route to the subway to disperse the pastry shrapnel. I imagine a murder mystery where I'm a bourgeois killer who leaves no evidence save a telltale trail of croissant flakes.
Green tea gets me through meetings at work, where every conference room is obscenely cold. My mom is from South London and reared me to turn my nose up at anything other than working-class British tea, but this is more of a survival tool than a beverage choice.
For lunch, my features editor Justin Bolois offers to pick up Made Nice, the fancy bowl-food place from the Eleven Madison Park people, so I get the khao salad with hanger steak, roasted broccoli, cilantro, and crispy shallots. It's better than other bowl-food places like Dig Inn and Little Beet in exactly the same proportions that it is more expensive. I brighten up the steak with globs of Queen Majesty jalapeño, tequila, and lime hot sauce from the global hot-sauce emporium that is my office table. I taste hundreds of hot sauces to create the Hot Ones lineup each season (along with my chili guru, Noah Chaimberg, from Heatonist), and Queen Majesty in Brooklyn is by far my favorite producer right now — superbright flavors, unique ingredients, and beautiful hand-painted labels.
I'm out of the office early to begin the long trek to Little Cranberry Island in Maine. Our friends Alexandra and Ben invited us to their family home for the weekend, and visions of lobster rolls obscure all concerns about the logistics of going to Maine for a weekend. My college buddy Aaron is on the plane and it's Friday, so I drink a double gin-and-tonic and snack on some underwhelming Dean & DeLuca savory pretzels. I also drink a seltzer, obviously — airplane seltzers are the most satisfying seltzers of all.
We arrive on the island by boat under the cloak of darkness, and within minutes of entering the house, there is a fire blazing, a bear-size Newfoundland nuzzling my crotch, and a double-magnum of rosé filling my glass. Despite the late hour, the family has laid out a perfect feast: homemade enchiladas, guacamole, and a bright summer salad. Dessert is great local ice cream and an insane pie packed with about a million impossibly small wild blueberries. Apparently, it's made by a woman in Southwest Harbor who slings them out of her house.
More rosé and more Newfoundland spooning by the fire after dinner. Whatever is too much wine, I have two of those. It is abundantly clear that this will be the best weekend of my life.
Saturday, August 12
Note: For the next 48 hours, this is no longer Chris Schonberger's food diary, but rather the diary of some other person whose life is much better than mine. Maybe I died and was briefly reincarnated as Ruth Reichl; someone check my Twitter feed for haiku.
It's a gray, misty morning, and Sarah and I decide to go for a run to explore the island. Back at the house, we eat blueberry pancakes sprinkled with more tiny wild berries that put my weekday Driscoll's mix to shame. I'm pretty hungry, so I go back for seconds and also have some Greek yogurt with granola and a sliced banana. Lots of strong coffee in a ceramic mug. I'm a cozy boy at heart, so I'm in my element as I sip the coffee and converse with a 5-year-old about the merits of various bug repellents.
Our friends arrange a boat to take us on a lobstering mission. We pull up to the dock at the local lobster co-op and grab a haul of 20 fresh-off-the-boat lobsters. From there, we head to Baker Island, which feels trapped in time with its rugged shoreline and crumbling lighthouse. A dingy takes use to shore, and we watch as our friend Ben and our captain, Butch, cook a meal as old as time. First, they build a wood fire under a pair of rocks and wedge an enormous pot on top of it. The lobsters go hissing into a shallow bath of ocean water, then they're covered with a metal pan strewn with wild mussels that Butch picked that morning. After the mussels steam, Butch uses a screwdriver to open a bottle of white wine, which he splashes all over the just-opened shells, along with fistfuls of crushed garlic and a generous dose of an Italian-y spice mix that he calls "The Concoction."
The mussels are plump and tender, with a briny bite that cuts through the garlic. Next, the lobsters are poured out directly onto the rocks, a mountain of bright-red shells billowing steam into the wet air. We spread out along the beach and smash the shells open with stones, picking out hunks of sweet meat with our fingernails and staining the rocks with entrails and butter. Butch walks around picking up the discarded carcasses and cracks them open to scoop out the tomalley — "The best part," he says, left behind by us novices.
It's one of the most visceral and satisfying meals I've ever had. And within hours, the tide will rise to extinguish the dying embers of the fire and wash the lobster remains off the rocks, as if we'd never been there.
The day is already good enough to hang in the rafters, but it's not over. A hike happens. Tennis happens. Naps happen. At dusk, I'm handed a "roadie" — island lingo — that turns out to be a plastic cup of Pol Roger left over from someone's wedding. I drink it while rattling around in the back of a pickup truck en route to the Dock.
The Dock is the only restaurant on the island, and perhaps unsurprisingly, everyone on the island appears to be there (including the handsome young town sheriff who might as well be called Officer Steal Your Girl). The vibe is loose and convivial, like a Down East Cheers. I'm tasked with ordering appetizers for the table of nine, one of the few things in this world that I'm capable of executing well, and we share those and a bunch of entrées. There's too much food to go into detail, but highlights include "Asian" ribs (whatever that means), shrimp curry, and vanilla ice cream wedged between chewy gingersnap cookies. Everyone's drinking Beaujolais, but I'm excited about the beer options, so I try a couple Maine IPAs — Mason's Brewing Co.'s Hipster Apocalypse and Funky Bow's G-String.
Sunday, August 13
I sleep in as late as I have in years and wake up to soft-boiled eggs on avocado toast, plus steel-cut oatmeal with fruit and honey. I play tennis all morning, but it's the type of tennis that can be played while drinking hot coffee. For lunch, there's dill-and-caper-spiked lobster salad made with meat picked out of the remains of our feast yesterday, plus coronation chicken that reminds me of childhood trips to visit my grandparents in London. Hospitality is not dead.
Later, we go for an incredible hike above the tree line in Acadia National Park and end up at Jordan Pond House for popovers. Popovers are a big deal around these parts. From what I can gather, some locals have boycotted Jordan Pond House popovers after a controversial change of ownership and will now only eat popovers at Asticou Inn. I respect this type of line-drawing deeply, but our hosts assure us that the Jordan Pond version is still the real deal, and they are correct. Following the lead of our friend Daphne, I cut a small slit into my popover, drop in a slab of butter, and shake it around like a carby maraca so that the steam inside warms the butter and distributes evenly around the doughy inner walls. I wash it down with a pint of Lunch from Maine Brewing Co., one of my favorite breweries on the planet.
Back at the house, we jump off the dock into freezing Maine water, thus working up an appetite for some soft cheeses and saison while the sun sets. Dinner is homemade spaghetti Bolognese and salad with lettuce from the yard, plus a couple glasses of Chianti while playing Battleship with two small children.
There are walnut brownies, but since I'm allergic, everyone insists I take the last slice of blueberry pie instead. This is maybe the one time ever in life that having allergies works in my favor.
Monday, August 14
Up at 5:15 a.m. for the trip back to New York. Before we head out, we gather around the kitchen island and mourn the end of the greatest weekend of all time over slices of babka and challah that our friend Sylvia made. We mainlined Maine and now it's time for the comedown.
Random sustenance during the march back home: yogurt with Cinnamon Toast Crunch poured into it. Some strawberries. Airplane coffee, the worst coffee of all coffees.
I go into work, and just as reality is setting back in, I remember that it is a big day: It's my annual Expensive-Ass Lunch with Justin Bolois and Sarah Honda, who work with me on First We Feast, and Brendan Dunne from Sole Collector. Last year, we went to the Four Seasons right before it closed, and now we're seeing how the Major Food Group makeover has changed things at the Grill. Everyone else is being abstemious, but it seems disrespectful not to drink a Martini, so I order the most classic option from the full Martini menu (!) — London dry gin and dry vermouth. I once interviewed Ricky Gervais, and he told me the reason he works out is so that he can live longer to eat more cheese and drink more wine. This is how I feel about Martinis. Sometimes, I do an intense core-conditioning class, then immediately drink an enormous Martini while I am somewhat dehydrated and physically exhausted. It's like Xanax to me.
Anyway, the Grill. If you're into the blood sport of New York City dining, you've read a million reviews, so I'll just give you my Cliffs Notes: The bread is tremendous. The curried lamb chops with mint jelly and yogurt are top-shelf. The burger comes nowhere close to the expensive-burger pantheon. We spend $100 a person, and I'm the only one with a drink ($18, by the way). All in all, the room is still the main event, and the food is maybe not quite as mind-blowing as the New York media circle-jerk brigade might have you believe. But hey, what do I know.
After work, I take Ruggles to a group "impulse control" training class. There is a comically French woman there who carries her dog in a handbag and feeds it little pieces of cheese throughout the session. New York is amazing.
We eat at home tonight: salmon caramelized with soy sauce, brown sugar, lime, and ginger; white rice in the rice cooker. I fail impulse-control training and eat a bag of Tate's mini-chocolate-chip cookies that I bought on sale at Fairway.
Tuesday, August 15
My wife takes Ruggles duty, so I make a pot of French-press coffee. I'm not picky about coffee at home, but usually I have a stash of beans from Ashlawn Farm in Old Saybrook, Connecticut, around. My dad passed away a couple years ago, and I like to seek out things that remind me of him — Ashlawn coffee, turduckens, hot sauces with names like "Slap Ya Mama." His tastes were super off-piste, and he taught me how to explore; you could set him anywhere in the country and be certain that he'd always find the weirdest, most distinctly local thing to eat within the hour.
Lunch is with FWF's editorial producer Jackson Connor at my favorite spot near the office, Kung Fu Little Steamed Buns Ramen. It has the best soup dumplings north of Chinatown, and the best name north of anywhere. In the bathroom, there are random items for sale, including used PlayStation controls. It's fantastic. Along with the requisite pork XLBs, we share scallion pancakes with sliced beef, stir-fried noodles with roast duck, and bok choy laced with big chunks of garlic.
Our usual Sunday routine is dinner uptown at Pisticci in Morningside Heights with Sarah's grandma, Lydia, so tonight is our makeup session after the trip to Maine. Granny Lydia is probably my favorite dining partner ever — she's unstoppably adventurous, even in her 90s, and the joy she takes in good food is infectious. She used to love coming with us to all the new restaurants "where young people go," but recovery from a broken hip has slowed her down a bit.
No matter: There's always Pisticci, across the street from the apartment she's lived in for more than 60 years. Pisticci is the consummate neighborhood joint, and Granny Lydia is a local celebrity there. All the staff are artists — opera singers, photographers, poets, jazz musicians — and they give the place the type of real character that you can't manufacture. Tonight, we get our favorite waiter, EJ, who's almost like a fourth guest at the table.
Sarah and I split spaghetti and meatballs, and orecchiette with sausage and kale. I have a glass of the red wine we always get — I don't even know what it is, but it's full-bodied and hits the spot. The three of us end, as usual, sharing the chocolate mousse and drinking hot water with lemon.
I'm only sad it's not Sunday, when Pamela would be serenading us with jazz standards in the front dining room. She always ends with "New York State of Mind" and I tear up a little, probably wondering how I got so lucky that this is my New York.