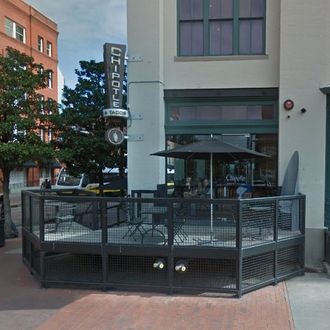 No longer rodent-accessible.
Who knew: Even the rodents at Chipotle are farm-to-table! A disconcerting video that shows mice scurrying around the floor and wall of a Dallas location has prompted the company to temporarily close it. In the clip, one mouse is seen sniffing over by the door, a second little guy climbs the nearby wall, and a third lies motionless on the ground, seemingly not in a very good place.
The footage was shot by customer Bahadir Han Koseli, who initially posted it on Facebook, where it unsurprisingly went viral. "Rats fell from the ceiling at Chipotle in the West End," he wrote in the post, which he's since removed. "That brought a quick end to lunch. Management didn't do anything while we were there but apologize."
Per the Dallas Morning News, management did at least remove the mice, and had professionals "fix a small structural gap believed to be the access point." That was in mid-July, though. The closure — for "Burritofication," as the note on the door informs passersby — didn't occur until this past Tuesday, three weeks after the fact. Chipotle says it's to "continue assessing the construction of the building," which the Morning News says is about 100 years old.
In complete fairness, rodents can get the best of any restaurant. However, the optics of waiting the better part of a month to shutter a location that's suddenly famous for the rodents seen crawling inside it seem like a poor business decision right now, all things considered.