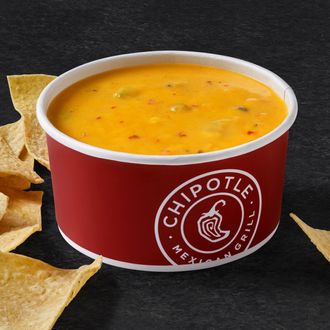 In just the last three months, Chipotle has endured a new norovirus outbreak, a massive data hack, and a class-action lawsuit filed by shareholders. Unfortunately, in response, it's doing the same things it used to smirk at "short-sighted" competitors for doing.
Try to remember your favorite Chipotle TV ad. Having trouble? That's because there's only been one campaign ever. In the past, CEO Steve Ells has said Chipotle is about creating a "compelling experience, not gimmicks," but in April, it broke down and paid for its first ads. They star Jeffrey Tambor as a giant talking burrito.
A more obvious change, of course, is with the food. Sure, Chipotle became the first chain to go entirely artificial ingredient–free in March. But what most people recall about Chipotle in the last five months is that it now has queso — a product that took years to develop, is getting tepid reviews, and actually forced Chipotle to pull a video from its YouTube channel attacking queso as the scourge of cheese products "made with artificial stabilizers." There have only been two other menu additions since 2015: a somewhat inauthentic version of Mexican buñuelos (still in tests), and chorizo (which debuted in 2016). News broke this week that Chipotle might discontinue chorizo, the protein option you've never tried anyway, in order to "make room for new additions such as queso dip." Business Insider notes that more "new menu additions could be coming down the pipeline soon," such as a spring-mix salad that involves avocado-citrus dressing. The extremely average frozen margaritas at Chipotle's New York test kitchen might also get their day very soon.
Jonathan Maze, finance editor for Nation's Restaurant News, notes the reason other fast-food chains use these strategies is "because they often work." Chipotle's bottom line hasn't been good lately, and it looks like those strategies are going to be a major part of the plan moving forward: This week, Chipotle poached its second executive from the same fast-food companies Ells once blasted for "trad[ing] food quality and taste for low cost and ease of preparation." It hired Laurie Schalow from Yum! Brands (the parent company of Taco Bell, Pizza Hut, and KFC) to serve as Chipotle's chief communications officer, a "newly created" position where she'll help "amplify" its message. She follows an Arby's executive Chipotle also just hired as its first chief restaurant officer.