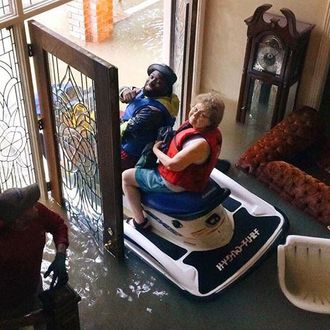 Karen on the way out her front door.
Photo: J.C. and Karen Spencer
J.C. Spencer and his wife, Karen, successfully rode the bulk of Harvey out inside their north Houston home, but on Monday, water suddenly started flooding the bottom floor pretty fast. Realizing they'd have to leave, J.C. did the only logical thing:
"We had to get out of there so I called Chick-fil-A, now that sounds kind of funny," J.C. Spencer said in an interview on "GMA" Wednesday. "I ordered two grilled chicken burritos with extra egg and a boat."
Fortuitously for the Spencers, who say they're "regulars" at that location, the manager on the other end was the owner of a boat, and she sent her husband to retrieve them. The vessel was sort of small, though — the Spencers tell Good Morning America they were busy plotting how to cram as many of their possessions aboard as possible when, it so happens, two totally unrelated "Jet Ski heroes" arrived out of the blue and offered to transport them, freeing up space on the Chick-fil-A manager's boat.
In the end, J.C. admits he fled without his wallet or wedding ring, although he's since gone back to the house and found both of those items, too. The Spencers' lucky streak is really something to behold — just think what would've happened if their home had flooded the day before, on Sunday.