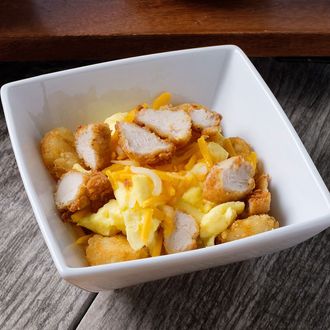 Better come hungry.
Photo: Chick-fil-A
Taco Bell is folding fried eggs in half for its new breakfast "taco," but if your gut prefers starting the day with a true challenge, look no further than the other breakfast item announced this week: the Hash Brown Scramble, which has the distinction of being Chick-fil-A's first foray into breakfast bowls.
Like most of the chain's breakfast menu, it's an outlier. But unlike, say, the Chicken, Egg & Cheese Bagel (which subs arguably healthier breaded chicken for the bodega staple's greasy bacon), this item bucks the breakfast-bowl trend by tacking hard in the unhealthy direction. Pret a Manger's only bowls involve things like açai, and there's lately even been a push to incorporate ingredients like congee or cured fish and hemp. The Hash Brown Scramble is a bona fide gust-buster, though: scrambled eggs, tater tots, cheddar cheese, Monterey Jack cheese, and salsa, topped with your choice of sliced chicken nuggets or sausage. That packs a 450-calorie wallop, and there's a burrito version that surely adds another couple hundred cals.
At the same time, it does pack 30 grams of protein, a fact Chick-fil-A — which is normally biggish about offering pseudo-healthy menu items — is marketing in a master class on euphemism as a "hearty" breakfast choice that's "protein-packed," "combines two fan favorites" (nuggets and hash browns), and helps Chick-fil-A "provide a wide range of options" to guests who don't want the chain's Greek-yogurt parfait or Egg White Grill.