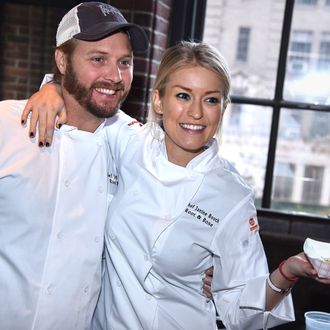 Chickens may be coming home to roost.
Photo: Dave Kotinsky/Getty Images for NYCWFF
A new lawsuit argues that the chefs at one of New York's most high-profile fried-chicken joints found some very creative ways to spend nearly a quarter of a million of the restaurant's dollars. Jeff McInnis and Janine Booth — Top Chef veterans who have four James Beard Award nominations between them — opened Root & Bone in 2014 with business partner Richard Freedman, who also doubles as Root & Bone's landlord. Freedman claims the pair (who are also a real-life couple) has so far failed to account "for over $286,000 in cash distributions." Freedman also claims he's been frozen out of the business and was led to believe the restaurant was "not making much, if any, profit."
The suit alleges that $136,000 of the money funded a remodel of McInnis and Booth's East Village apartment that's located above the restaurant, and that another $85,000 went toward rent. They're also accused of paying a PR firm to market a Puerto Rican pop-up restaurant that Freedman had no part of — and that supposedly featured proprietary recipes from Root & Bone's menu. McInnis also gave himself a $10,000 raise, the suit says, despite essentially never being at the restaurant.
For his part, McInnis says, "I wish the guy the best," but the matter is nothing more than "bookkeeping confusion." That could definitely be the case, but drama does seem to follow the two chefs: When McInnis decamped from Miami in 2013, his wife called him a "backstabbing buttface," and claimed he "emptied our bank account" so he could flee to New York with "that girl Janine on Top Chef," who she said was his new girlfriend. In any event, Freedman wants the money repaid plus damages, and for the court to rule that the chefs have violated their lease.