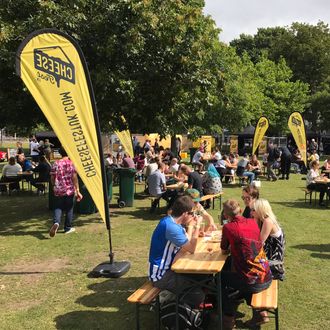 Not people at Brighton's event.
Photo: CheeseFestUK/Twitter
A festival celebrating cheese is facing serious backlash for running out of it, something the weekend-long event's organizers apparently didn't "anticipate" a "demand for." This Fyre Festival–level fiasco was held in the English city of Brighton and, it's also worth noting, had sold out beforehand. It's part of a traveling festival series literally called the Cheese Fest, where people pay £3 to £6 in advance to supposedly enjoy a drool-worthy afternoon filled with endless raclette wheels, halloumi fries, grilled cheeses, and the "most amazing mac and cheese in the world."
The complaints started pouring in immediately on Saturday — too few stalls, outrageous lines, woefully underprepared vendors, not enough bathrooms. Very soon, the eponymous food ran out entirely. Some visitors noted they didn't get so much as a sample-size morsel. As the afternoon stretched on, visitors kept coming, spawning more awful feedback, and organizers allegedly stooped to removing negative comments from the event's Facebook page.
This Twitter dog pile from the late afternoon pretty well sums up most ticket holders' anger:
Festivalgoers started venting their frustrations under the hashtag #cheesefest. Most gave up any chance of a refund, but their spirits seem okay if you judge it by the number of terrible cheese puns hurled at event organizers — they Camembert it, it's un-Brie-lievable, a total meltdown, what's the world Comté, etc.: