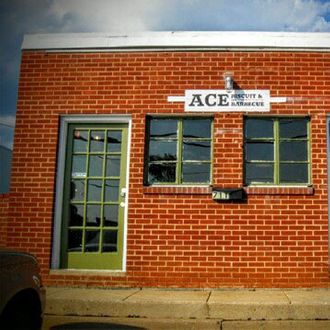 A barbecue joint in Charlottesville, Virginia, is reportedly getting threats after the owner booted a group of patrons who started Nazi-saluting each other this weekend. Ace Biscuit & Barbecue is less than a mile from the Robert E. Lee statue at the center of the white-nationalist rally and horrific attack, and Brian Ashworth tells CNN he closed the establishment entirely on Saturday (which he thought was better than the alternative: cooking southern comfort food while a bunch of white nationalists were in town for a rally).
On Sunday, he says a group of four or five men and one woman came in wearing #MAGA apparel and shirts that said things like "Pinochet Helicopter Company" (a popular alt-right meme that's a nod to Chilean dictator Augusto Pinochet, who threw political opponents out of helicopters). He felt urged to turn them away, but he let them stay and eat anyway. He says they behaved themselves fine until the very end, when they were all outside smoking; they reportedly gave the Hitler salute in full view of Ace's other customers. Ashworth lost it, telling them to leave, "admittedly in unkind words" that apparently involved a multitude of F-bombs.
They countered that they had rights, and Ashworth conceded they had rights but said, as a business owner, there are federally protected groups his restaurant must serve, and they're happy to, but he reserves the right to deny service to other groups. His employees don't have to serve them, he said.

…

The woman in the group called him "limp-wristed" and another pejorative for gay men. And then came the threat: "This isn't over. We'll be back."
Ashworth says he got a round of applause from the rest of his customers, but that "doesn't keep anybody safe." He asked Charlottesville PD to post a squad car out front, but they told him resources were "a little thin." His answer for the time being is to arm himself with two .45 pistols while he's at the restaurant. "I just want to sell some food and make a few bucks," he tells CNN. "I don't want to be the guy who got shot by a f–king Nazi."
Meanwhile, a man named Cole White's picture started circulating on social media after the rally — he was part of the tiki-brand torch-carrying crowd. The Twitter account @YesYoureRacist spent the weekend crowdsourcing the identities of rallygoers, and it only took internet sleuths a few hours to unearth White's name and employer: a libertarian-leaning hot-dog chainlet in the Berkeley area called Top Dog. Top Dog has some questionable views of its own, but by yesterday evening, the company announced White was no longer employed there:
"Pretty much everyone's happy with the fact that he no longer works here," an employee told the local news site Berkeleyside.