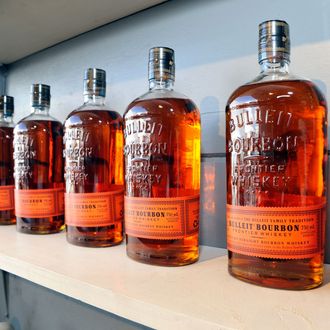 Sobering.
Photo: John Sciulli/Getty Images for Jeep
Your next Bulleit Old Fashioned might taste somewhat sour: The company has been accused of dismissing the founder's daughter, who worked as brand ambassador, simply for being a lesbian. Hollis Bulleit says she got pushed out the day before Christmas Eve, via an email, after spending 25 years with the well-regarded distillery, long enough for her industry peers to call her the "First Lady of Bourbon."
She publicly dropped the allegations last week on Facebook — there are six separate posts' worth, actually. In them, she writes that her family essentially disowned her after she came out to them ten years ago, but that she fought to stay on at the company anyway. She claims she was integral to Bulleit's sales and marketing efforts for over two decades, but was abruptly and (in her eyes) very coincidentally fired in December, just one month after bringing her longtime partner to the family's Thanksgiving. In ten years, that was "the only holiday that we attended," she writes, "and then we were promptly uninvited via text from the following core family Christmas."
She claims her family regularly hosted company events in which Diageo — which bought the distillery in 2000, and has been named the Best Place to Work for LGBT Equality for nine years — would photograph her siblings' significant others, but never her partner, Cher, or even Bulleit herself. She adds that she moved so she'd be closer to Bulleit's Lawrenceburg, Kentucky, distillery, but her family ultimately made her feel "so aggressively unwelcome" that neither side interacted for years. She also claims Diageo didn't really give a flip about the alleged discrimination.
Through a rep, Diageo tells Forbes that Bulleit's Facebook posts are "inaccurate," and only came after the two sides failed to agree to new contract terms:
It is unfortunate that we were not able to come to terms on the multi-year contract that we recently offered to Hollis. However, to insinuate that the failure to do so was due to bias of any kind is simply unfair and inaccurate. We are very proud of our long track record of work, through many of our brands, to support the LGBT community.
For her part, Bulleit writes:
For the past decade, I have held these secrets … I should never have been put in a position to hide my family's homophobia or my company's complacency in order to keep my job.  I did nothing wrong. I have nothing to be ashamed of.
The exit terms forbid Bulleit from representing the brand in any way. But because of her family's unique last name, she writes it's hard to navigate social situations now, too — the people she meets inevitably want to talk about Bulleit whiskey. She says she's not quite sure what she's going to do now, either, adding that "I literally lost my name and the worth that comes with it."