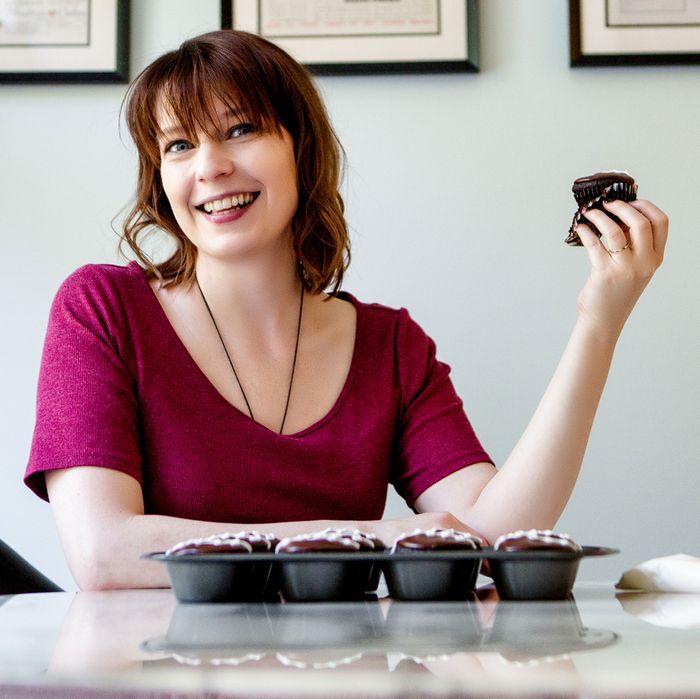 Stella Parks in her Kentucky kitchen.
Photo: Sarah Jane Sanders
Stella Parks doesn't really like cookbooks. That's surprising, since Parks is an award-winning pastry chef, a successful baking blogger, and now a cookbook author. And she does like the idea of cookbooks, but she says she's been turned off over the years by books that rely on repetitive recipes, outdated science, and too many variables in their advice. "Seeing that kind of urban-legend advice baked into so many recipes, it just made me not want to pick it up," Parks says. So why did she spend the last five years working on her own debut cookbook, BraveTart: Iconic American Desserts? In part, to share the kind of advice she wishes she had as a kid when she'd follow a recipe to a T and still end up with a failed cake.
BraveTart is also a celebration of the kind of food people ate long before anyone had invented the phrase "farm to table." What Parks likes best are Oreos, key-lime pie, cinnamon rolls, Thin Mints, and banana pudding. It doesn't matter to her where they came from or who made them first. What matters is that they're good. These desserts are a part of our culture and are worth our attention as much as an éclair or baklava, but have in recent years been given the short end of the stick.
"I also feel like American desserts haven't received sufficient attention in an in-depth way," Parks admits. "They've been kind of relegated to the realm of home baker and not taken seriously. Most American baking books are very casual."
The idea of "American" desserts, in Parks's eyes, means the kind of supermarket stuff labeled as junk food, a term that she feels reveals a "tendency to look down on" these things. "Her interest in and appreciation for these products is very real. It's not precious; it's not fanciful," says Serious Eats founder Ed Levine. "At the same time, she goes deep into recipes, techniques, and ingredients."
Parks isn't alone in the food world in embracing treats often waved off by food snobs. Christina Tosi, after all, built an empire out of cereal milk and candy bars. But often, these desserts are treated as shtick, gimmick, or jumping-off point for something fancier. They aren't for Parks, who you get the impression would be content to hoard all the Oreos for herself, so long as she has enough milk.
A graduate of the Culinary Institute of America, Parks was born and raised in Kentucky, where she still lives. One side of her family was literary. Her paternal great-grandmother edited a church cookbook, and her great-grandfather helped found the University of Mississippi, Oxford's library. Her mom's side was more the "1950s nuclear family" type, and she calls her maternal grandmother "very much a Betty Crocker kind of cook," who made everything from mix. She writes and bakes with an unpretentious scholarliness that marries these backgrounds, explaining the origin of Rice Krispies Treats with a enthusiasm that could only be fueled by a serious sugar binge. It's food science for cookie lovers.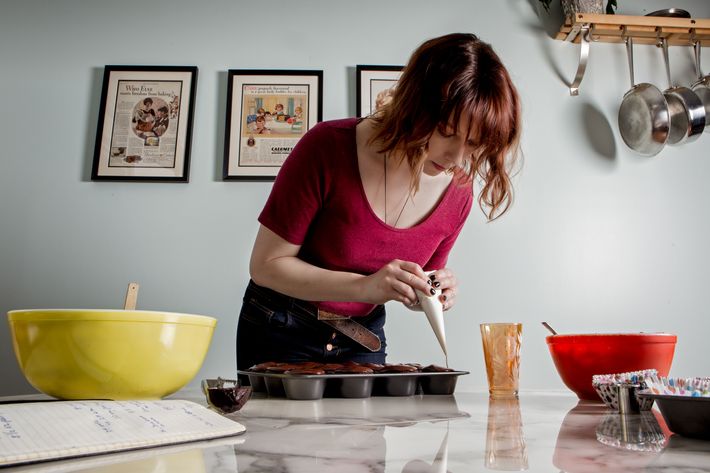 She started baking at a young age, but came to it as a profession through a somewhat unusual path: In 2010, she was asked to become the pastry chef at Lexington's now-shuttered Table 310, where Food & Wine took notice of her, and started blogging as BraveTart. Her recipes caught the attention of The Food Lab author Kenji López-Alt, the science-minded Serious Eats writer, and by the following summer, she was contributing a weekly column to the food site. (Her first recipe for the site was for an imitation Oreo.) These days, she is Serious Eats' "pastry wizard." Her recipes sometimes contain ingenious tricks and discoveries, like how to make caramel without melting sugar (with science, she says, that the food world "collectively shrugged" off) and using the Japanese technique of yukone to solve the age-old problem of bagels rapidly going stale. (Which should make her a hero in New Yorkers' eyes.)
As someone interested in the science of making food better, Parks is an unexpected champion of corporate desserts and industrial food. Often, there are smart, innovative techniques and tricks behind these treats, one's that can and have been useful to home cooks. Take the dehydrated apple powder used for binding in McDonald's apple turnovers. "It amplifies the apple flavor, provides thickness without starch, and is totally natural," Parks says. "It's a technique that home cooks can latch onto; it's not super complicated. Who else is doing that besides companies?"
Which gets to another of Parks's points. Corporations, industrial food production, and advertising firms are responsible for some of America's most iconic desserts. If not always in outright inventing them, then in tweaking and widely popularizing them. Parks points out as much when she talks about Boston cream pie, crediting Pillsbury with adding a chocolate glaze to the cake, and via a 1934 advertisement, popularizing it. But her best example, because of the science involved, is key-lime pie, which she calls a "stunning reminder of how deeply America's traditions are shaped by advertising."
In recent years, the dessert's origin has been attributed to a Key West millionaire's cook in the 1860s. But there's no evidence to back this up, and there's nothing intuitive about the science behind the dish. Parks convincingly argues that it was born in a Madison Avenue test kitchen, a place that had the resources and knowledge to experiment and create key lime's predecessor, Magic Lemon Meringue Pie.
Introduced in 1931, it was created by Borden to promote its Eagle Brand condensed milk. Parks writes that "it was a staple of women's club cooking classes" by just the next year — a reach no home cook could achieve — and a 1965 Borden leaflet with several magic-pie recipes claims that the Magic Lemon Meringue Pie recipe was used "more than 10 million times" in 1964. Developing the recipe meant understanding food science to know that condensed milk contains very high levels of casein proteins that coagulate in the presence of acids. But also that you'd need to use enough lemon juice (1/2 cup to 1 1/3 cup of condensed milk) to curdle fresh milk. Magic Lemon Meringue Pie transformed into key-lime pie in Florida, where limes were subbed in for lemons and the crust was rolled in graham crackers. That technique was included in a 1941 key-lime-pie recipe, the first that Parks could find, and by the 1950s it was a Florida birthright.
"People didn't have the luxury of randomly experimenting like that," Parks says. When creative home bakers did have a fruitful kitchen accident or revelation back in the days before Pinterest and blogs, it was rare for it to spread beyond their own kitchens. (How would the Mississippi roast go viral 50 years ago? Through an advertisement.) From that point of view, junk-food companies have given both amateur and professional pastry chefs a lot to work with. Parks does have the luxury of playing with her food. Corporations used food science to create new recipes for their products. Through BraveTart, Parks uses it to give people new tools to become better bakers, a better understanding of baking, and an emphatic reminder of why every one loved these cookies, cakes, and other sweets in the first place.