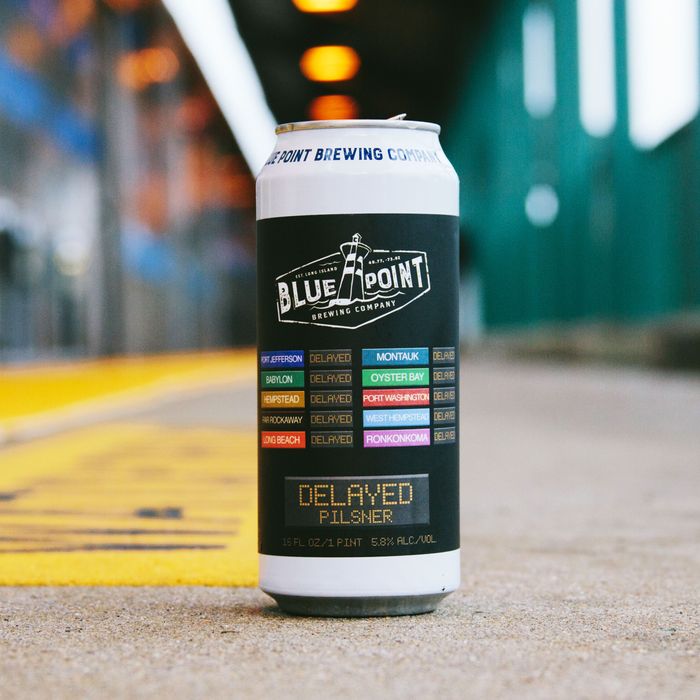 Delayed, just like your train.
Photo: Courtesy of Blue Point Brewing Company
Of course the MTA is crumbling. The subway has turned into a nightmarish mess, and commuters who go through Penn Station are being treated to, in Governor Andrew Cuomo's words, the "summer of hell." (Also known as major service disruptions caused by extensive track repairs required because of neglect.) Earlier this summer, delays were so bad that police reportedly blocked access to parts of Penn Station.
While subway commuters stuck underground have no choice but to stew and tweet at Cuomo, Long Island Rail Road and New Jersey Transit riders can at least get drunk. To that end, Blue Point Brewing Company has introduced a new beer exclusively available inside Penn Station.
Called Delayed in honor of the train you're (possibly) taking home, the beer is a pilsner that will debut at Penn's Shake Shack on Monday, before becoming available elsewhere in the station (so at least you can finish your summer of hell on the high note of sort-of-branded beer).
Will it solve Penn Station's problems? No. Is it a gimmick? Sure. Does it beat MTA Commissioner Joe Lhota's enforceable and callous idea of banning food on the subway? Of course.