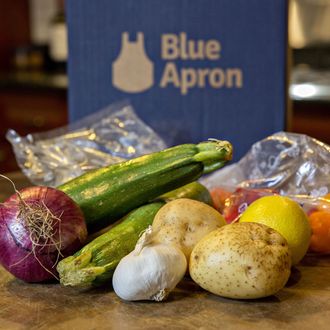 Leaner times.
Photo: Daniel Acker/Bloomberg via Getty Images
More problems for Blue Apron: The company's payroll is getting as lean as skinless turkey in a thermal-lined delivery box. Fourteen members of the meal-kit service's recruitment team have now been fired, and its top HR executive has exited the company for presumably greener pastures. This follows co-founder and CEO Matt Wadiak's resignation last month (he headed up recipe creation and ingredient sourcing, two problematic areas for the company lately) — making for a trio of developments that seem to suggest a dim future for the start-up. The layoffs are also tied to a "temporary hiring freeze of salaried employees" that isn't shocking, considering the company's worth far less than it had hoped before going public, and is now facing a flood of shareholder lawsuits.
Current CEO Matt Salzberg says the hiring freeze is part of an organizational restructuring to help pay for the launch of a new state-of-the-art fulfillment center in New Jersey. To do that, the company needs to shift 1,270 workers from Jersey City to Linden, about a 30-minute drive away. Blue Apron has said that "the majority of those employees have already elected to transfer," but any who don't — maybe their commute gets too long, or maybe their "comparable position" in Linden isn't as good — will lose their jobs for good in October.
Unsurprisingly, that hiring freeze doesn't affect "hourly positions," but as Bloomberg points out, Blue Apron might still regret giving factory workers another reason to quit: Company insiders say on average in their current Jersey City facility that "20 to 30 weekly departures" isn't uncommon (also, that 100 people once left in a single week). Employees make above minimum wage, but past reports suggest work in Blue Apron's fulfillment centers can be — how to put this delicately? — cold, sweatshoplike, and violent. Just one example: Over the course of one workday at its Bay Area facility, an employee phoned in a murder threat, OSHA slapped the center with nine health and safety violations, and another worker got fired for sexually harassing a colleague, then returned to threaten the manager who let him go.