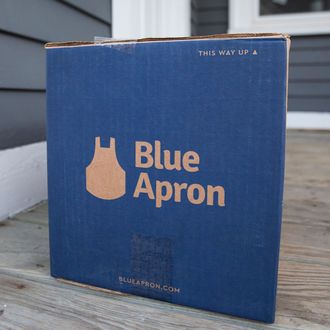 As disappointing as realizing you have to hand-make your aïoli.
Photo: Scott Eisen/Getty Images
Well, Blue Apron's stock price is officially now one for the record books. Anyone who watched its train wreck of a Wall Street debut already can guess where this is going: Yesterday, the meal-kit company released its inaugural earnings report, arming traders with the numbers on last quarter's business performance. The report contained bad news (Blue Apron lost another 9 percent of its customers from March to the end of June), worse news (costs rose 86 percent, to $66 million), and worst-of-all news (executives warned "the second half" of 2017 will be even bleaker).
Shares fell by another 18 to 19 percent as a result. That put them at less than 60 percent of their IPO price — $10, which, as a reminder, was already well below the $15 to $17 figure the company teased in the lead-up to the public offering. As Bloomberg notes, "It's been a while since the U.S. market has seen an IPO sour this much this fast." How long, you ask? If you compare the first six weeks of every IPO worth at least $300 million since the year 2000, Blue Apron's swift drop qualifies it for dead last.
Executives explained costs jumped partly because of money they threw at a brand-new fulfillment center in New Jersey. That came with an irony of its own, though: Last week, hundreds of employees got the news that they may be laid off when the old facility closes. In their call with investors yesterday, execs also said they were in the middle of automating fulfillment centers, and planned to spend far less on marketing. That has yet another downside, which is they'll also have to delay a menu expansion that might have attracted new customers.