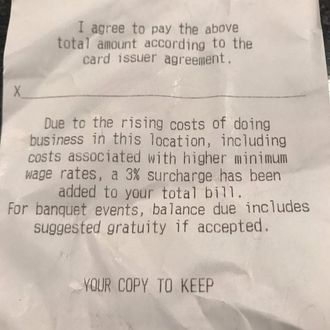 Customers blasted it as being "under the radar."
Photo: PoPville
Restaurateur Tilman Fertitta is a very rich person — he's the star of CNBC's Billion Dollar Buyer and sole owner of Landry's, Inc., a multi-billion-dollar hospitality group that includes skyscrapers, hotels, aquariums, casinos, cruise lines, and around 50 different restaurant chains. One of those chains is the Oceanaire, an upscale surf-and-turf joint that's now stuck explaining why it added a special tax to bills to offset the minimum wage it pays employees.
The fee's only heads-up got buried on the receipt in a dense block of text underneath the signature line. Patrons who ate at the location in D.C. — where the minimum wage just went up — showed their bills to local media. At the very bottom, a note read: "Due to the rising cost of doing business in this location, including the costs associated with higher minimum wage rates, a 3% surcharge has been added to your total bill." Not surprisingly, people got angry right away. Commenters declared the fee a "deceptive business practice," accused Oceanaire of "pretty much" scapegoating innocent Oceanaire employees "who need to make a living," and told the company to just "take your political statement and shove it."
Fertitta — who Forbes literally calls "the world's richest restaurateur" — also owns McCormick & Schmick's, the Rainforest Cafe, Saltgrass Steak House, Dos Caminos, the Bubba Gump Shrimp Company, and as of this week, the 80 or so remaining Joe's Crab Shack locations. All this to say, his feelings about increasing the minimum wage are essentially in line with what you'd expect. He's described it as a "training wage," and thinks President Trump's doing "a great job" with the economy.
The fallout was so bad, though, that it seems Oceanaire felt it had no choice but to walk back the surcharge. Landry's tells the Washington Post that, after "recent feedback," it's decided the fee was actually "temporary," and that this temporariness has come to its logical end: "We have chosen to remove this surcharge effective immediately," a rep says, "and will explore more traditional means to address the industry's rising costs, such as raising menu prices."