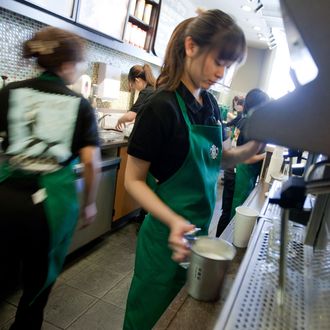 Baristas say they're "getting the short end of the stick."
Photo: Nelson Ching/Bloomberg via Getty Images
Back in January, Starbucks touted its brand-new six-week parental-leave policy as proof of the chain's "commitment to be a different kind of company and put our people first." But eight months after getting that benefit (no doubt a generous one for fast food), a growing number of employees are pushing the company to end the policy's massive disparity between workers at stores and corporate employees. Currently, Starbucks offers eligible "birth mothers" in stores six weeks paid time off. This benefit extends to employees in every café, from Times Square to the one stuck awkwardly on the Seattle corporate office's ground floor. Yet go upstairs in that building, and there's a different standard: Female employees get 16 weeks fully paid, while the men get 12 weeks.
In discussions with employees, Starbucks has apparently told them to view corporate's leave policy as "a fringe benefit," the point being to retain talent at that level by offering a very competitive benefits package. In a story today, The Guardian says baristas who think it should be a universal policy instead of an "elite benefit" (as well as extended to men and adoptive parents) met with executives earlier this summer to press the company, but couldn't even get an answer about whether there's even an internal discussion about equalizing the policy.
For its part, Starbucks kind of maintains that pregnant baristas should be happy they're getting anything at all, since KFC and Taco Bell parent company Yum! Brands gives its hourly employees absolutely nada: "From a retail perspective, our [parental-leave] benefit is one of the best in the industry, if not the best," a rep said in a statement. But Starbucks — clearly a very socially aware company — actively tries to give workers better-than-average benefits (pay that's above minimum wage, insurance to part-time employees, four years of online college tuition), so fighting it on "something as fundamental as family time" sort of comes as an unwelcome surprise, these workers say.