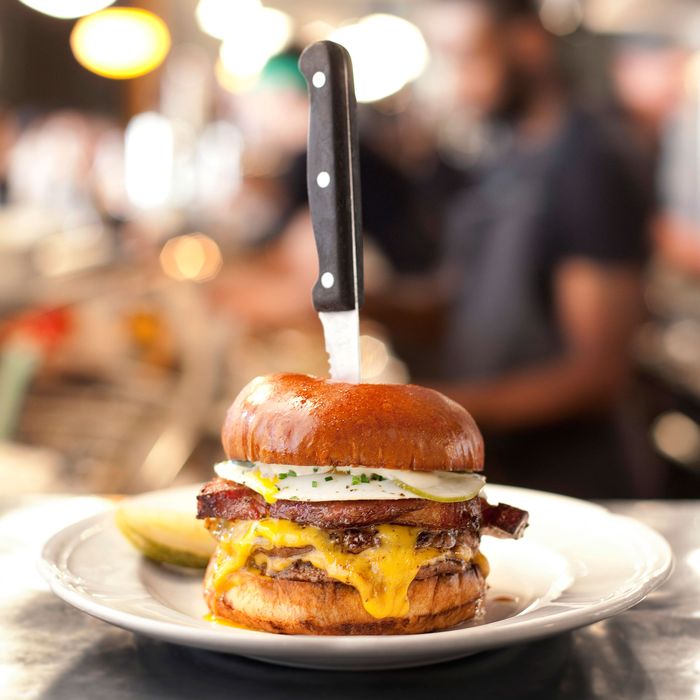 NYC-bound.
Photo: Kevin J. Miyazaki/PLATE
What started as a glimmer of hope back in May is now official: New York City is getting an outpost of Au Cheval, the Chicago diner with a perennial hours-long wait and one of America's most critically acclaimed burgers.
When owner Brendan Sodikoff first showed interest months ago in the space (79 Walker Street, in Tribeca), the community board seemed to have reservations about welcoming yet another restaurant with late hours and a booze license into the neighborhood. It's unclear how that was resolved, but the Times today confirms a late-summer 2018 opening.
Burger-obsessed New Yorkers might recall an Au Cheval burger cameo last fall, when the restaurant did a one-night residency at Noho's Chefs Club. Since then, a version of it has been on the menu at 4 Charles Prime Rib (also part of Sodikoff's Hogsalt restaurant group). While not exactly the same, that burger nevertheless moved New York's own Adam Platt to compare it to "a champion prizefighter arriving in town from another city."
It's a proven crowd-pleaser partly because it's decidedly unfancy — a toasted bun, a pair of prime-rib patties, American cheese, pickles, Dijonnaise, and, if you want them, bacon and a fried egg. The Times adds the Tribeca space will seat 75 and also include a coffee bar.