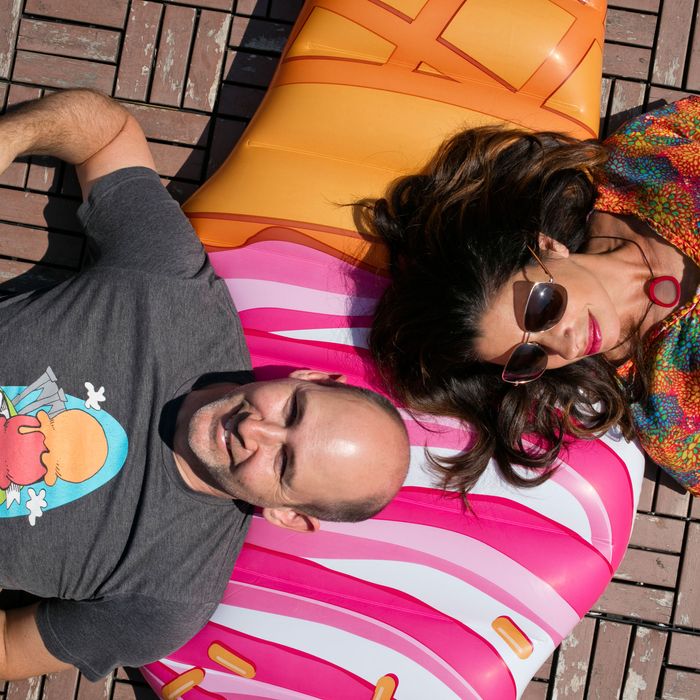 The couple also eats a lot of ice cream.
Photo: Melissa Hom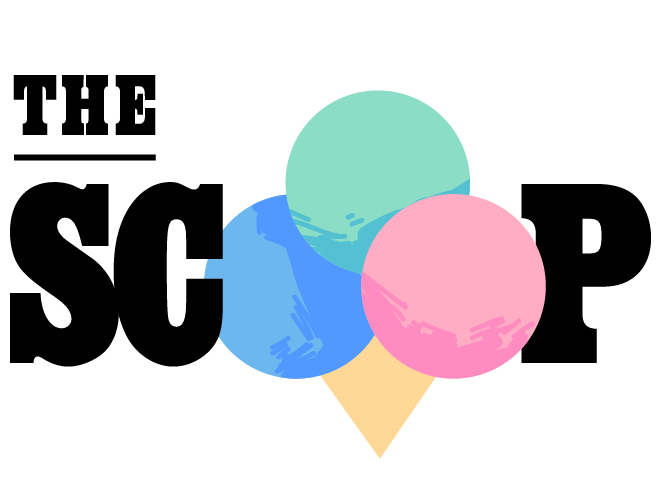 A weeklong series dedicated to exploring everything that's happening in the world of ice cream right now.
Since opening the first Ample Hills Creamery in 2011, Jackie Cuscuna and Brian Smith have built something of an ice-cream empire. With eight locations already in place, plus a ninth on the way (in Jersey City) in a few weeks, the couple is responsible for churning out between 2,500 to 3,000 gallons of ice cream each week. They would be forgiven, then, for wanting to avoid frozen sweets on their days off. Instead, Smith says, an out-of-town trip means a chance to see what other ice-cream experts are up to. "We're always looking at what other people are doing," he says. "At least, that's what I tell myself. Really, I just love ice cream."
Thursday, August 3
Brian Smith: We're in Los Angeles to meet with Disney about some exciting projects. Unfortunately, mum's the word for now, but if they happen, 2018 will be a particularly exciting year. We brought our kids with us for a work-play vacation. Went to Disneyland yesterday, but today is all meetings. My sister who lives in L.A. is watching the kids. We're running late. No breakfast.
Jackie Cuscuna: Coffee is usually my only sustenance for the first few hours of the day. Hotel Keurig isn't my favorite, but it will do. Running to the car because every minute Google Maps says the trip is getting longer. And I spill my coffee. L.A. traffic sucks.
BS: We're staying in Anaheim, but meeting in Glendale, an hour-and-a-half away. We run between meetings and have no time to eat lunch. Back in the car, back to Anaheim. It's 3 p.m. now, and we pick up the kids and go for our first meal of the day.
JC: It's 90 degrees. After the madness of three hours in traffic, it's time for a stiff tropical drink. Trader Sam's Enchanted Tiki Bar at the Disneyland Hotel. A dark, cool tiki bar seems like the perfect spot. I opt for the Shipwreck on the Rocks, as it includes bourbon and mint and I need something strong and refreshing.
BS: I get the Shrunken Zombie. No idea what's in it, but it's perfect — except they're out of the souvenir mug, which, truth be told, is why I ordered it. Every 15 minutes, a volcano blows and the bar shakes. It's that kind of place. I get a Hawaiian cheeseburger with caramelized pineapple. Hold the lettuce and tomato. Really nice. Love the combination of sweet pineapple and meaty, salty burger.
JC: I want Brian to split the pupu platter with me, but he doesn't like to share. The glazed chicken wings are good, and the perfectly greasy spring rolls in between sips of minty bourbon are exactly what I need.
BS: It's 9 p.m., and we go for a late dinner at In-N-Out Burger. My second burger of the day. I get a double burger with "off-menu" sautéed onions. No lettuce and tomato. I don't go for those healthy things. Customer service is insanely good. And the simplicity and beauty of the menu is inspiring.*
JC: We talk up In-N-Out to our kids like it's the mecca of fast-food burger joints. Better than …? Better than …? Yes! Yes! And the only problem with talking up a burger joint this much is that our jaded NYC daughter isn't going to buy into her parents' enthusiasm. I get the double with everything. It doesn't disappoint.
BS: In need of dessert, we go looking for a local ice-cream shop. Research, right?
JC: We find one called Han's. We think it's a stand-alone shop, but it turns out to be inside one of the coolest food halls we've ever seen: the Anaheim Packing District. It's an old orange-and-lemon packing house that's been converted into a food hall. Our kids' eyes light up when they see big boba drinks served with cotton-candy clouds. There are also cups filled with big, colorful cereal puffs, with liquid nitrogen rising off the top. There are pancakes in the shape of fish stuffed with chocolate. We get one of everything and share it.
BS: I get the Nutella Krunch ice cream. Nice texture. Smooth and creamy, with an agreeable chew.
Friday, August 4
BS: We head to Messhall Kitchen in Los Feliz for breakfast.
JC: Another two-hour car ride in L.A. traffic. I'm beginning to see why people don't leave their hoods. Happy to be in a neighborhood that feels homey, though.
BS: Los Feliz is awesome. It's a real neighborhood. With 100-year-old bungalow cottages. And it's walkable, too, which is rare in L.A. It sits at the foot of Griffith Park and the Observatory. It'd be a good spot for an Ample Hills. How do you pronounce Los Feliz anyway?
JC: I'll always pronounce it the proper Spanish way. Sorry for sounding like a tourist, but my years studying Spanish and time spent in Ecuador don't make me sound like a native of L.A.
BS: We both get the Big Messy Breakfast. Pancake, bacon, sausage, eggs, and fruit. It's served in cafeteria trays. A nice kitschy touch. The kids get doughnuts and fruit.
JC: For lunch, we head to Grand Central Market in Downtown L.A. Brian's sister told us about this place and said we had to go. So after a stop at the Observatory to see the planetarium show, we hop into the car and head to Downtown L.A. Our son, Kaleo, eats three things: pizza, Japanese food, and chicken nuggets. Luckily, we find a pizza stand for him. I knew we couldn't leave L.A. without having some Mexican food. My daughter and I get tacos at Tacos Tumbras a Tomas. They're huge and delicious. I get the al pastor taco with avocado and cheese. There's really nothing better than a good, ripe California avocado on top of spicy salsa.
BS: I try to go to Eggslut, but it closes as I'm walking up to order. Arggggh! Instead, I go to Berlin Currywurst and get a cheddar-jalapeño sausage and fries with onions. Sausage is good and spicy, but doesn't ooze with cheese when I bite into it. The fries are some of the best ever, though. Dusted with chili spices and slathered with sautéed onions. Juicy, rich, crispy, and full of flavor.
JC: For dessert, we go to McConnell's Ice Cream. It's one of my favorite West Coast brands. I eat an entire cup of Chocolate Covered Strawberries and Cookies & Cream. Brian gets the Double PB Chip ice cream.
BS: I'm a sucker for anything with peanut butter. I'm always looking for the perfect peanut-butter ice cream. I haven't figured out how to make it yet, but someday I will. That's the Holy Grail. We don't leave Grand Central until 4, which means another late dinner. But first we stop at Pie Hole for a second lunch dessert. Pie Hole's in the Arts District, and I get a slice of cereal-cheesecake pie. I want to turn that pie into a flavor of ice cream! Or at least eat it with a scoop of ice cream. We head back to Anaheim and eat at a big Italian restaurant. The kids are done. Our son's falling asleep at the table. The food is forgettable. Actually, yeah, I did forget it. So, well, let's just leave it at that.
JC: I skip dinner and order the flight of Moscow mules. Clearly, I made the right call.
Saturday, August 5
JC: Brian hasn't been able to stop thinking about the Eggslut sandwich he missed at Grand Central. And we're both craving Sidecar doughnuts. So we decide to brave the L.A. traffic again. It's Saturday morning, so it's not too bad. We drive from Anaheim to Venice to Eggslut. Only an hour in the car.
BS: We get to Eggslut and there's a long line outside. We're catching a flight back to NYC this afternoon, so there's not a lot of time. I get nervous around time. Jackie and our daughter wait while I double-park with our son.
JC: I like hanging in the line outside in the hot sun, people-watching and enjoying the Venice vibes. I think about how fun it would be for Ample Hills to be bicoastal. I order the sausage, egg, and cheese and an iced coffee. I almost devour the sandwich on the walk back to the car.
BS: Stressed out about catching our flight, but still wanting to get some doughnuts, we race to Santa Monica to Sidecar. I eat my bacon, egg, and cheese as I drive. It's awesome. It's a beautiful thing when a place can take something so simple, so common, and turn it into something extraordinary.
JC: We get a spot right in front of Sidecar. We order a half-dozen doughnuts. My favorite is the blueberry one. Have to stop myself from eating the whole thing. Brian and the kids don't have as much self-restraint.
BS: Restraint? Seriously? At this place? Hands down, these are my favorite doughnuts of all time. They're baked and fried fresh all day long. You order them while they're still hot. And you can see the whole process in action. And the flavors! Cinnamon Crumb. Butter and Salt. And Cookie Dough! It has chocolate chips baked into it, and instead of frosting, it has a big glob of cookie dough on top. If or when Ample Hills comes to L.A., this is the one place I'd want us to team up with. Jackie and the kids and I brainstorm ice cream–doughnut combos. Doughnut sundaes. Doughnuts chopped up into ice cream. Doughnut ice-cream sandwiches. Yes, yes, yes. With a good sugar high, the race to the airport is a lot less stressful.
JC: Free Murray's Cheese plate for dinner on our Delta flight. Brie, cheddar, apples, and grapes. Haven't had a plane meal I didn't have to pay for, so a Murray's plate seems extra special.
BS: I order the same thing. And a second one for my son, since I know he won't touch it and I can eat two! That said, when we land at JFK at 10:30 p.m., I'm still hungry. If we don't eat at the airport, we'll be going to bed without food.
JC: It's JFK, so there's a Shake Shack. But I'm thinking it's too late, so we pass it by. But as luck would have it, there's a second Shake Shack ten gates later. I steer the family into line and I order the Chicken Shack.
BS: I think about getting a burger to compare it with In-N-Out, but decide on a chicken sandwich because it feels healthier at 10:30 at night. I'm suddenly worried about my cholesterol. But it's deep-fried — so, yeah, I'm pretty dumb. My excuse is that I'm tired from a six-hour flight. Our daughter gets the burger and reaffirms her affinity for the East Coast chain over In-N-Out.
Sunday, August 6
JC: We wake up super late, as we're still on Cali time. My brother comes over for brunch and declares he's in the mood for a Junior's egg cream. So we walk the six blocks from our apartment to eat our very late brunch, or possibly dinner, and I get eggs over medium turkey sausage. I try not to fill up on the coleslaw, pickles, and corn bread. But since no one else is eating it, and I can't stand to see uneaten food on the table, I keep going. For dessert, we walk over to DeKalb Market Hall to show my brother our stand, and I get a scoop of our Junior's-cheesecake ice cream: Harry & Eigel's Marbled and Malted. It's really, truly my new favorite Ample Hills flavor, and I can't get enough of it.
BS: Back at home, I always start the day with a bowl of cereal. Today, it's Smart Start. After that chicken sandwich last night, I'm feeling a whole lot smarter this morning — until we go to Junior's and I order a cheese-and-bacon omelette with French fries. What's wrong with me? Oh, and for research purposes, a pineapple ice-cream soda. Pineapple syrup, soda water, and vanilla ice cream.
JC: While we have little energy to cook, we know we don't want to eat out again for dinner. Our daughter offers to make a shrimp dish, and while she's well-meaning, she's also 11, and her cooking will mean one of us cooking. I volunteer Brian, and he begrudgingly accepts. Shrimp-and-broccoli stir-fry with garlic, ginger, and onions. The dish was good, but really a means to an end, as the dessert she wants to make is Fruity Pebble Krispie treats. I'm not a fan. My brother brought over some rainbow cookies, however, and those become my dessert.
BS: I eat a couple of the Fruity Pebble treats. I'm thinking they'd make a good mix-in for ice cream. Which gets me thinking about a post-dessert dessert. Our freezer is packed with seven or eight pints of ice cream at any given time. Mostly Ample Hills' of course. But I grab a pint of McConnell's Banana & Salted Caramel, and we watch old episodes of Curb Your Enthusiasm and fall asleep.
Monday, August 7
JC: Two cups of Stumptown's Hair Bender coffee and I'm set for breakfast.
BS: I have another bowl of Smart Start to make up for that double dessert last night.
JC: Jet-lagged and weary, Brian and I walk down Nevins Street to the Gowanus shop and discuss our day. We've got a bunch of meetings with people about the multiple projects in the works on both coasts. Feeling a bit overwhelmed and still not completely awake, I make myself a shot of espresso at the shop.
BS: I run out of time for a proper lunch. I eat a scoop of ice cream. It's a test batch of a new fall flavor. Still needs a little work. But it's good enough for lunch.
JC: I have the same thing for lunch. Different flavor. I grab a scoop of Summer of Love and head home to watch the kids. It's a rainy, cold Monday evening, and all I want to do is curl up on the couch, watch a movie, and not move for the rest of the day, but I realize we have no food and the kids are asking to go out.
BS: Jackie's on her own with the kids while I go out with my best friend, Robb Shandroff. Robb worked with me on the very first batches of Ample Hills ice cream six years ago, in a basement in Park Slope. We meet once a month at Atomic Wings in the West Village and drink beer and eat hot wings. Suicidal heat level. With extra "bite me" sauce on the side. And cheese fries. Funny how cholesterol doesn't scare me when there's a pitcher of beer on the table. All that alcohol's got to wash it away, right? Then it's off to the movies. There, I get an Icee (all flavors mixed) and Junior Mints. These remain the only things I eat at the movies. And the inspiration for our peppermint-patty flavor. In fact, when we started, I bought Junior Mints and chopped them up. Then I realized I could make my own peppermint patties and make them stronger.
JC: I pull it together and come up with a plan to satisfy the three of us. We walk over to Alamo Drafthouse to see Spider-Man. We get a bunch of things to share. I've learned that I only enjoy eating finger food in a dark theater, so I split the flatbread pizza with my son and we get pretzels and popcorn. The warm pretzels are comforting, and the movie is great.
BS: We meet up back at home, put the kids to bed, and discuss plans for a serious diet.
*This post has been edited to remove an incorrect time reference.