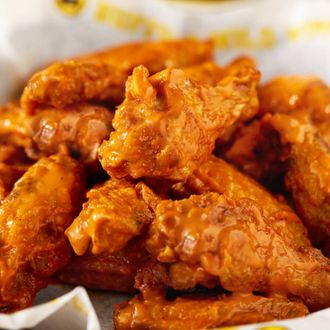 No more Half-Price Wing Tuesdays.
Photo: Buffalo Wild Wings
If you weren't already annoyed by the big Floyd Mayweather–Conor McGregor fight this weekend, this should probably do the trick: It's at least in part contributing to a looming chicken-wing shortage. According to The Wall Street Journal, whole-wing prices have climbed by more than a third in the last year, from $1.50 per pound to $2.09, all while the chicken wing remains a top seller for restaurants, and you have sports bars like Buffalo Wild Wings trying to cash in on the biggest sports spectacle in years, which means burning through even more wings.
As always, B-Dubs — industry leader in all things wings — is banking on a huge turnout for not just the fight, but also sporting events in general this fall. Customers won't be so enthused, however, to learn that because of the supply crunch, the chain is actually ending its iconic Tuesday wing special, the half-off discount that's kept locations jam-packed for decades. (In its place is a buy-one, get-one deal on boneless "wings," which are merely wing-shaped hunks of less-expensive chicken breast.) B-Dubs has also been running deals on "Sharables," which is the part of its menu with "street tacos," popcorn shrimp, and mini–corn dogs.
It was either that or raise menu prices, which industry analysts say has become a nonstarter now. The chain is paying "a historic high" for wings, enough to depress earnings by 60 percent this quarter, and signs suggest costs won't quit going up before year-end. Wholesale prices are killing rivals like Wingstop, too — it's paying 11 percent more this year — and football season doesn't even kick off for another two weeks.