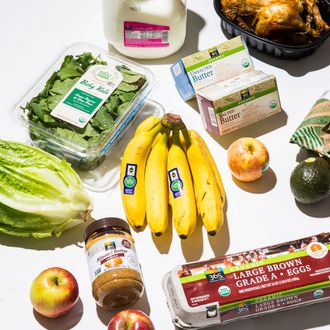 Some of the discounted items calling your name right now.
Photo: David Williams/Bloomberg via Getty Images
Did you scarf down two bowlfuls of guacamole last night? Big whoop — you're having guac again tonight. Why? Because Whole Foods' avocados, which used to cost you $3 each plus your firstborn child, are now merely two bucks. Pay no attention to the voice in your head that's quietly pleading, "For essentially a large berry, that's still … a lot." Focus instead on the bargain you're getting: This is two-thirds what you would've spent just 18 hours ago for your organic, omega-3-rich Mexican side dish, now that Amazon's officially slashed prices at the grocery chain.
Fanatical shoppers responded to stores' new orange "Whole Foods + Amazon" signs more or less how you'd expect:
Cheaper grocery staples were of course today's primary draw, but almost everything about the launch marks a major departure from yesterday's Whole Foods. For starters, there's the fact that the grocery chain is now in the "Farm Fresh" virtual-assistant-selling business, as people inside stores all over the country today were quick to gawk at:
Amazon specifically mentioned 15 items that were getting a price reduction in its press release last Thursday. Business Insider bought all of them twice — once on Friday before the drop, then again today after it happened — and the savings amounted to almost 23 percent ($97.76 versus $75.85). According to a price comparison done by Bloomberg, the price of organic baby kale dropped by 13 percent ($3.99 to $3.49 per package), organic bananas got 30 percent cheaper (from 99 cents to 69 cents per pound), and a $14 organic rotisserie chicken can now be yours for ten bucks.
Not everything's a killer deal (Amazon's big, whopping egg discount came to 7 percent in New York locations), and some analysts have pointed out that a pattern is sort of emerging here: The items are all things shoppers can't, or don't need to, buy in bulk, a tactic that ensures they'll return more frequently, especially once their Echo starts suggesting it subliminally. Feels a bit exploitative, but then again, who's going to turn down cheaper responsibly farmed salmon (33 percent off!), actually affordable organic Fuji apples ($1.99 a pound!), and a chance to load up on all your usual Whole Foods impulse buys in one easy trip.