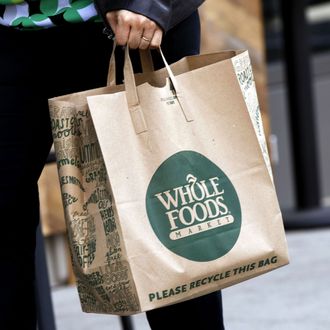 Two-hour kale chips, anybody?
Photo: Patrick T. Fallon/Bloomberg via Getty Images
Certainly the hand-wringing's only just begun about what this means, but Amazon and Whole Foods announced today that their merger is officially all set. Whole Foods shareholders approved the buyout yesterday, and the FTC has green-lit the $13.7 billion deal, so prepare for their joint "vision" of making Whole Foods' "high-quality, natural, and organic food affordable for everyone" to start in earnest on Monday.
Shoppers can expect to see several benefits immediately, the announcement says. For starters, as "a down payment on that vision," Whole Foods will lower its prices on "a selection of best-selling grocery staples across its stores" starting Monday — avocados, salmon, eggs, even that must-have "crunchy almond butter." Stores will also begin integrating Amazon Prime into the Whole Foods point-of-sale system; once that's ready, Prime members are going to get "special savings" and "in-store benefits." Also, get ready for Amazon Lockers to pop up "soon" in certain locations — weird move from a store-aesthetics perspective, but super convenient-sounding in practically every other way.
Here's how the announcement spells out the new rewards in full:
• Starting Monday, Whole Foods Market will offer lower prices on a selection of best-selling staples across its stores, with much more to come. Customers will enjoy lower prices on products like Whole Trade bananas, organic avocados, organic large brown eggs, organic responsibly-farmed salmon and tilapia, organic baby kale and baby lettuce, animal-welfare-rated 85% lean ground beef, creamy and crunchy almond butter, organic Gala and Fuji apples, organic rotisserie chicken, 365 Everyday Value organic butter, and much more.

• In the future, after certain technical integration work is complete, Amazon Prime will become Whole Foods Market's customer rewards program, providing Prime members with special savings and other in-store benefits.

• Whole Foods Market's healthy and high-quality private label products — including 365 Everyday Value, Whole Foods Market, Whole Paws and Whole Catch — will be available through Amazon.com, AmazonFresh, Prime Pantry and Prime Now.

• Amazon Lockers will be available in select Whole Foods Market stores. Customers can have products shipped from Amazon.com to their local Whole Foods Market store for pick up or send returns back to Amazon during a trip to the store.
And Amazon promises this "is just the beginning" — the plan is to offer even more benefits to Prime users, which means your $99 membership might effectively turn a Whole Foods grocery trip into shopping at a gourmet Costco with free two-hour delivery (but still with worse alcohol, alas).
This is unpleasant news for everybody else in the grocery industry. Rivals' stocks have already started nose-diving this afternoon. In fact, shares of Kroger, Costco, and Sprouts all hit their lowest trading prices in months.