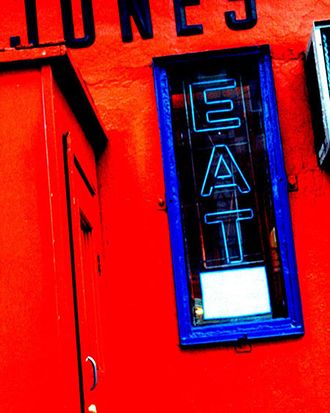 Back from the dead — and worth an immediate revisit.
Photo: Konstantin Sergeyev
As of this Sunday, Schiller's will be no more. We lost French Roast. Mayahuel went down just a couple days ago. Change in New York is inevitable. It can also be painful — especially when that "change" means a spot you love (or once loved) will close for good. New York may be the best eating and drinking city in the world, but it increasingly feels like low-key neighborhood places — you know, spots where you can actually just show up and get a seat and not spend $300 on dinner — are closing with alarming regularity. It's time to celebrate the places like this that still exist. There are too many to name here — and everyone has a favorite that deserves some love — but this list of 22 bars and restaurants is a good start.
Sardi's
Even if you don't want to go for the full beef, veal, and cannelloni au gratin, you should head upstairs anytime you see a Broadway show for a Manhattan, Martini, or brandy Alexander. It's where the Tonys were dreamed up. And now that Angus McIndoe is gone, it and Joe Allen are kinda all that's left of dreamlands like that.
Corner Bistro
This has been arguably the reigning burger in town since before Ed Koch was the mayor. Other heirs to the crown have shown up over the years, and even if it doesn't seem quite as great as it once did, it's still the stuff of legend. The kitchen doesn't close until 3:30 a.m., and that burger only gets better as the night wears on.
Great Jones Cafe
After flatlining last month, it looked like this Nolita Cajun spot was a goner. And then, suddenly, it wasn't. Go now, lest anything like that should happen again.
Doris
It's cool now to open in Bed-Stuy, but Doris has long been a neighborhood staple, and walking inside feels like escaping into a Santa Fe kibbutz or whatever Greek island Mamma Mia! was set on. Make it your Tuesday spot, when the happy hour lasts all night.
Gowanus Yacht Club
With the luxury buildings going up on the banks of the Gowanus Canal, this outdoor dive's name feels a little less ironic than it once did. The place is still great, though: It's as close to picnicking or barbecuing as you can get in a restaurant, with all of the fun and none of the cleanup.
Tom's Restaurant
The uptown diner made iconic in all those Seinfeld episodes is still cash-only, but worth that minor 21st-century hassle. Try the off-menu Broadway shake, a mix of chocolate and coffee. And they still make $8 banana splits, bless them.
Margon
Sandwich-fiend Aziz Ansari once declared Margon's Cuban sandwich to be the best in the city, and nobody has proven him wrong yet. But even their simple, creamy oatmeal is ideal, and pairs well with a cortadito. Don't sleep on the Dominican fried chicken, either.
Shanghai Deluxe
This spot on Mott is incredibly friendly, and agile with complicated orders. Get a mountain of soup dumplings, but trust in your server's discretion. The more you go, the more they trust you to know off-menu offerings.
Punjabi Deli
Grab a samosa or aloo-tikki patty for just $1.25. But the real treat is to dive into a $5.50 large plate of rice with three hot vegetarian items, plunk down at one of the handful of stools or counter space, and watch a wilder side of New York's hustle and bustle unfold in real time before your eyes. Most important: Don't cheat yourself out of the kulfi or kheer.
Grey Dog
When this local chain's original location on Carmine Street closed, regulars held a funeral for it. It reopened a few years later on the same block. With perhaps the friendliest staff in the city, frequent patrons can easily find a spot to turn into an extension of their living room.
Hungarian Pastry Shop
Across the street from the Cathedral of St. John the Divine, it's a little-known secret that this tiny café does the heavy lifting on the neighborhood's divinity. Their Russian coffee (espresso, hot chocolate, whipped cream) is the Gary Shteyngart of caffeinated drinks: daring, playful, and sweet.
Coppelia
Entire Spanish-guitar serenades should be written about this 24-hour Cuban diner's lomo saltado — which, yes, is Peruvian, but don't be that person — paired with an avocado milkshake. It's good for breakfast, lunch, or dinner. The bar is built well for camaraderie with the staff, who might tell you about the cinnamony canela cocktail.
Frank's Cocktail Lounge
This narrow Fort Greene institution is where you go when you want a drink and some company, but have absolutely no interest in anything even vaguely related to mixology.
Grounded
This coffee shop on Jane Street has the madcap vibe of a friend who is really into horoscopes and sound baths. It's a bright, plant-filled oasis in the style of a casual, couch-filled, pre-Starbucks coffee shop, like the iconic Central Perk from Friends. Its seasonal teas and coffees are thoughtful without being pensive, and fun without being campy. It's the kind of coffee shop where the bulletin board still matters.
Nancy Whiskey Pub
Crouching into its upstairs mezzanine and looking out over the sawdust saloon is to know a New York that only exists in movies and the hearts of those brave few souls who don't Yelp or Instagram. It's one of the rare, special places in the city where it makes lots of sense to order the chicken tenders.
Shopsin's
The smaller Essex Market echo of what had been a booming Carmine Street monument to decision paralysis might not survive the mammoth changes that are currently afoot. But its exhaustive, chameleon menu — butterscotch milkshakes! White-sausage gravy! — is the perfect reminder that holes-in-the-wall can still lead to wonderland.
Bagels on the Square
If your morning commute passes through West 4th Street and you don't stop at Bagels on the Square — yes, even if it means getting out of the subway — then, to be honest, you're doing this city all wrong. All of the deliciousness of a soup Nazi with none of the intimidation.
Walker's
Tribeca's go-to bar and grill, it is everything you would expect from that description. Bartenders who know your name (and pour commendably stiff Martinis). Families sitting in the back dining rooms. And a no-frills burger that's surprisingly great.
Julius
The oldest gay bar in the city — it began as a grocery store in 1840, then a "gentlemen's club" bar since 1864 — also serves a mean $6 burger from its open-air kitchen. Whether feasting on food, drinks, or Mr. Right Now, its multigenerational appeal and antic let-it-all-hang-out coziness make it the perfect breeding ground for adventurous raconteurs and the playful man-about-town.
The Rusty Knot
When Taavo Somer opened this spot in 2008, it was with the aim that it would age into the perfect dive bar. Now, nearly a decade later, that has happened. It retains its beach-blanket-bungalow-den vibe and is packed with nooks where friends convene.
Veselka
Look at you. You're too thin. All that stress of life in the big city. I hope it's worth it. But, eat. You need to eat. You're still growing. Try some borscht. And some kielbasa. And some bigos. And veal goulash. And some stuffed cabbage. More cabbage than that. Do you want to eat it or just taste it? C'mon. Eat up.
P.J. Clarke's
If it was good enough for Jackie O every weekend; it's good enough for you. This Mad Men–era throwback — the original location, on Third Ave — is the kind of place where the staff will both coax and rib you with pal-o'-mine familiarity.