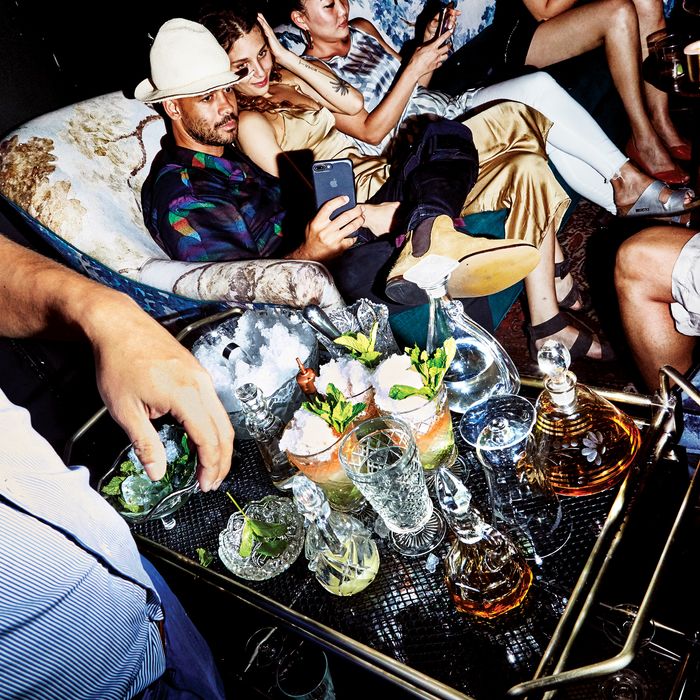 The mojito cart at Mr. Cannon.
Photo: Amy Lombard/New York Magazine

Instant Locals
Acoustik Garden (early September)
1515 Atlantic Ave., at Albany Ave., Bedford-Stuyvesant
The bar of summer was Diamond Reef; this fall brings another indoor-outdoor spot a few blocks east on Atlantic. Acoustik Garden, from event coordinator and former bartender Heather-Sky McField, will have live music — jazz, R&B, neo-soul, and Afro-Latin — tapas and cocktails, and a patio that seats 40, with standing space for 50 inside. McField has plans for non-boozy contributions to the community, like financial-literacy workshops (she's a vet of BMO Capital Markets).
Grand Republic Cocktail Club (September 15)
19 Greenpoint Ave., at West St., Greenpoint
From Johnny Swet, who's in charge of the cocktails at the also-new Oscar Wilde: this 2,500-square-foot spot named for a ship (Swet's a Navy vet), by the new ferry terminal. The bar has a garden and drinks like the Chicha Morada margarita, made with the Peruvian corn-based fruit drink.
2nd Floor at 2nd Ave Deli (mid-November)
1442 First Ave., at 75th St., second fl.
The Lebewohls, the family behind 2nd Ave Deli, will open this bar upstairs from their UES sandwich shop, with reclaimed-wood floors, a brass bar, and leather banquettes. Look for dishes like pastrami on rye; the cocktail list leans Jewish nostalgia (perhaps a drink with Manischewitz).
Over-the-Top
Mr. Cannon (just opened)
206 Front St., nr. Beekman St.
The Seaport's upscale renovations continue apace with this lounge from the Lure Group (Food Lab, Clinton Hall), tucked off the secret-ish Cannon's Walk courtyard. There are dark leather and green jewel-tone couches, and the intended vibe is "bespoke social club." Expect mojitos made tableside and $17 martinis with grapefruit-infused gin.
Oscar Wilde (just opened)
45 W. 27th St., nr. Sixth Ave.
This new spot from the owners of Lillie's will lay claim to the city's longest bar (118½ feet) and sports baroque details like gilded fireplaces. Drinks include Oscar Wilde's Potent Elixir, which blends five types of alcohol: cognac, gin, Guinness, cassis, and Champagne — sort of a high-society Long Island Iced Tea.
The Aviary (September)
At the Mandarin Oriental; 80 Columbus Cir., at 60th St.
In June, the Alinea team opened the Office, a speakeasy inside the coming 90-seat outpost of their theatrical Chicago bar the Aviary. The Aviary NYC itself will soon debut, with the type of complex drinks you'd expect from "bartenders trained as chefs," in a lavish, futuristic space designed by Adam Tihany (Per Se, Daniel).
Magic Hour (September)
At the Moxy NYC Times Square, 485 Seventh Ave., at 36th St.
The Tao Group's in charge of this sure-to-be-slammed rooftop bar, which will be the city's largest indoor-outdoor roof lounge, with a topiary garden and a golf course (okay, it's putt-putt).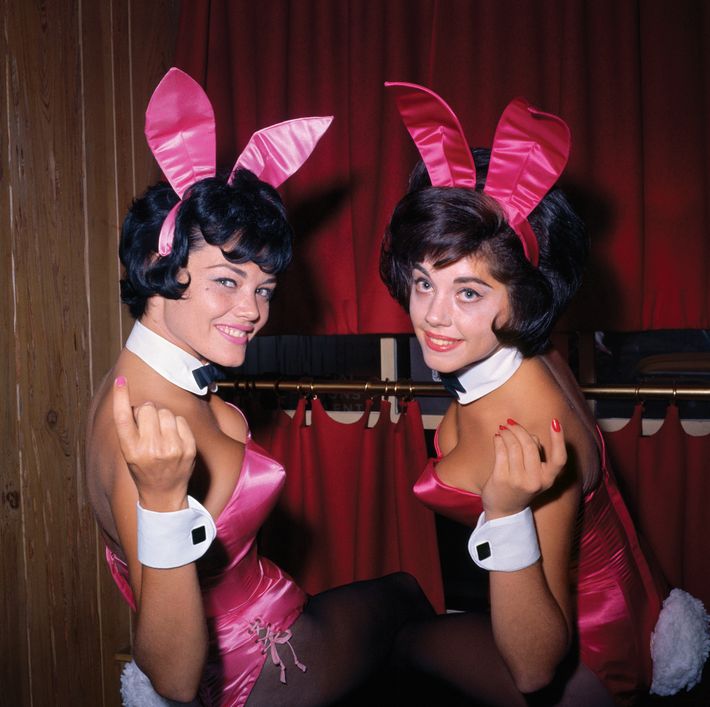 Playboy Club New York (Fall TBD)
510 W. 42nd St., nr. Tenth Ave.
A revival of the Bunny-staffed cocktail lounge. We hope Gloria Steinem works undercover — as she did for the magazine Show in 1963 — but after controversy surrounding the opening announcement, it seems the atmosphere will be less machismo ogling, more swanky throwback drinking — there's a "bespoke spirits library."
Underground
Undercote (late September)
16 W. 22nd St., nr. Fifth Ave.
The Korean steakhouse Cote, from the owner of Michelin-starred Piora, will open a bar-lounge downstairs with a big Champagne list and Korean bar snacks. Expect bold décor from known maximalist and art-world favorite Ricky Clifton.
Gibson + Luce (mid-October)
At Life Hotel, 19 W. 31st St., nr. Fifth Ave.
This basement cocktail bar is in the Beaux-Arts Carrère-and-Hastings-designed home of the original Life magazine and is named for famed editors Henry R. Luce and Charles Dana Gibson (who lived upstairs); legend has it Life employees found boozy comfort here during Prohibition. This fall, you'll be able to descend a spiral staircase from inside the hotel to legally order a seasonal drink from Yusef Austin (the Standard); Michael Vignola (Aquavit) is doing the food.
The Green Lady (TBA)
At Hotel 50 Bowery, 50 Bowery, nr. Canal St.
Talde & Co. are keeping details under their hats, but look for this ground-cellar lounge with live music that'll accompany the group's rooftop bar, the Crown, and new restaurant Rice & Gold.
Filling a Need
Mood Ring (September)
1260 Myrtle Ave., nr. Cedar St., Bushwick
The interiors of Mood Ring draw on the co-owners' Chinese-American heritage, paying homage to Hong Kong films, especially In the Mood for Love. And after a trip to Berlin last winter, the owners were inspired, too, by the DIY spaces there (this is their first foray into the bar world, and they've been working with local artists on the buildout) — a concept they felt Bushwick lacked for. Also: There's an astrology cocktail that will change with the signs, and a small dumpling menu.
Vinum (early September)
704 Bay St., Stapleton
When Massimo Felici — the Italian-born owner behind Ribollita and La Nonna — moved to Staten Island nearly four years ago, he noticed the borough's dearth of wine bars. He's changing that with this 30-seat spot with a courtyard, a full bar including a list of 40 wines by the glass, and a classic Italian menu (meatballs, panini, etc.).
Tallboys (working title) (November 15)
1452 Fulton St., nr. Brooklyn Ave., Bedford-Stuyvesant
The team behind the two-year-old dance-y bar-restaurant Lovers Rock is opening this sports bar and grill, for which "the '90s Knicks were a guiding inspiration" (look out for a Patrick Ewing poster). Bed-Stuy sports fans have few options for game-watching, and so will be happy to hear there are nine TVs. Bar food — nachos, wings, etc., made with farmers'-market ingredients — will be served until at least 2 a.m., along with a large list of international canned beers.
For Dogs
Boris & Horton (December 1)
195 Ave. A, nr. 12th St.
Logan Holzman and her father, Coppy, the founder of Charity Buzz, will open this dog café in late fall, where canines can play while their humans hang out and sip wine or coffee. Logan has an animal-rescue background, so she also hopes Boris & Horton (named for the Holzmans' dogs) will host adoption events.
For Alan Cumming
Club Cumming (mid-September)
505 E. 6th St., nr. Ave. A
When one phantasmagorical door closes, another opens: Good-bye, Eastern Bloc; hello, Club Cumming, the (slightly) more-grown-up redo of the bar from, yes, Alan Cumming. The actor first dreamed up the concept as a party in his Cabaret dressing room; this stationary version comes with a new mural by his husband, Grant Shaffer, and a calendar full of events: In early evenings, expect tame-ish ones like violin and cello performances and erotic readings. Later in the night, energy levels turn up: gender-fluid dance parties, etc.
Years of delays aren't uncommon before a bar serves its first drink. Here, three new spots — and what held them back so long.
The Lost Lady
171 Ave. C
Three years ago, Robert Ceraso and Jason Mendenhall, owners of the Wayland, decided to open a bar called the Drift Inn. They got community-board approval to take the onetime Babel space, across the street from the Wayland — but then Babel decided to stay. Late in 2015, they found another space on Avenue C — then that bar decided to stay. Last year, they secured a third space … and then the Drift opened in Greenpoint. Undeterred, they renamed the bar the Lost Lady and tweaked the aesthetic. It'll open September 7 with cocktails (lots of agave and rum), tacos, shuffleboard, and a CD jukebox.
Mothership Meat Company
27-20 40th Ave., Long Island City
Word broke in June 2016 that Josh Bowen (John Brown Smokehouse) would soon open this barbecue-and-beer garden. He even did menu previews in the new space. Then he entered what he described to the TimesLedger as "DOB purgatory" — the gridlock wrought by the notorious Department of Buildings. Some restaurants hire pricey expediters to speed up the permit-getting process, but Bowen did it himself  — eventually asking Mayor de Blasio directly for help, at an LIC town hall. It worked: Mothership will open very soon.
Elsewhere
599 Johnson Ave., Bushwick
We reported last year that this venue from the team behind Glasslands would open. It didn't. We're here to tell you again that it's opening — but with new conviction: Construction's finished, shows booked. Blame construction issues beyond the team's control: When a 24,000-square-foot venue with a café, roof bar, performance spaces, and gallery has to change building plans, countless others are affected, domino style.
*This article appears in the August 21, 2017, issue of New York Magazine.