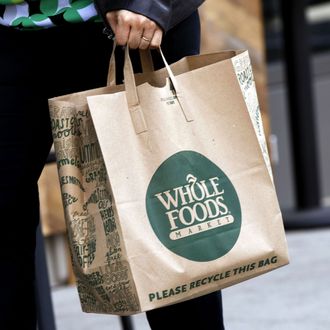 Probably won't stop it, but hey, let 'em try.
Photo: Patrick T. Fallon/Bloomberg via Getty Images
Amazon's swallowing of Whole Foods understandably has supermarket chains and meal-kit companies alike sweating bullets, but even if they were dead set on blowing up the merger, they really couldn't; a full derailment would require either angry shareholders (who still have to officially approve it) or a frightened government (which could block it over monopoly fears or other concerns). Luckily for Amazon's rivals, both are making noise about the deal.
Hailing from the first group is Whole Foods shareholder Robert Riegel, who, per the Austin American-Statesman, has just filed a class-action lawsuit in Texas alleging that the deal is "misleading" and the company "failed to disclose information important to stakeholders." He believes Amazon's $42-a-share offer is a slap in the face that, worse, was shrouded in secrecy. It's true that negotiations were in Amazon's favor; there were six other potential buyers, including a "Company X" believed to be Albertsons, but Amazon threatened to walk if so much as a "leak or rumor" of its interest broke. (This could've set off a bidding war.) Riegel doesn't like that cornering, plus he argues that Amazon owes shareholders a clearer picture of its plans "regarding the future employment" of Whole Foods' executives. He's asking the court to stop the merger entirely.
The second troublemaker on the loose is Rhode Island congressman David Cicilline, who's the ranking Democrat on the Judiciary Committee's Subcommittee on Regulatory Reform, Commercial, and Antitrust Law. Yesterday, he published a letter calling for a hearing on the merger. He argues it could be a setback for workers' wages and would (somewhat counterintuitively) slow down innovation in the grocery-delivery sector:
Amazon's proposed acquisition of Whole Foods raises important questions concerning competition policy, such as how the transaction will affect the future of retail grocery stores, whether platform dominance impedes innovation, and if the antitrust laws are working effectively to ensure economic opportunity, choice, and low prices for American families.
Cicilline mentions how news of the merger has already hurt competitors' stocks, and could further threaten "dominant players" such as Walmart, Kroger, Costco, and Target, which will now have to "look over their shoulders at the Amazon train coming down the tracks." He thinks Amazon's near-certain automation will erode jobs and wages, too, resulting in "diminished economic opportunity for hardworking Americans." He quotes CEO John Mackey's line about how people are "gonna see a lot of technology" soon in Whole Foods, a message some interpret to mean that certain locations might be converted into little more than distribution hubs for Prime members' grocery orders. "Just as Walmart's big-box model destroyed small businesses when it spread across the country," Cicilline says, "Amazon's automation model, if widely adopted, potentially poses a huge threat to America's 16-million-strong service-and-retail workforce."
The Department of Justice and Federal Trade Commission will also get a chance to object, though experts don't see much reason why they would. Whatever the case, Amazon and Whole Foods say the deal could be sealed by end of year, so opponents better hope this bluster amounts to something sooner rather than later.