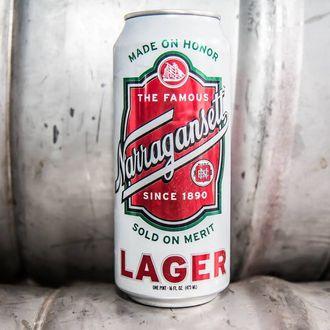 Still proudly American.
Photo: Courtesy of Narragansett Beer
Narragansett Brewing Company is not vocally pro-Trump like Yuengling, but it somehow got invited to yesterday's "Made in America" event at the White House — the one where President Trump sat in a fire truck.* Narragansett's president, Mark Hellendrung, said he frankly has no idea what his midsize brewery was doing on the lawn, surrounded by Stetson cowboy hats, rifles, and Chick-fil-A.
This was his explanation to the Boston Globe:
Hellendrung said he's aware that many of his customers may not necessarily be fans of Trump, but said he decided to participate because he has a strong belief in American-made products and independent businesses.

"Let's just honor the White House and being at the White House, and these great other American-made products," he said of the decision to send his beer to the event. "It was something we considered long and hard and it wasn't necessarily easy."
Narragansett is a beer best known nowadays for two things: being Captain Quint's preferred lager in Jaws, and being a cheap, kitschy brew that goes well with skinny jeans. But, fun fact: The brewery's ads were once drawn by Theodor "Dr. Seuss" Geisel, whose progressive political cartoons have become favorites of the anti-Trump left's, and also the original owners, the Haffenreffer family, were big backers of Barack Obama and Hillary Clinton.
Trump doesn't drink at all, but if he did, you can assume 'Gansett wouldn't be his top choice. Maybe it'd be Budweiser, after it rebranded itself "America." Or something bolder — a bottle with a gun-slinging white nationalist on it, or just one meant for yuuuge hands.
*This post has been edited to remove a reference to the owners of Pabst Blue Ribbon.