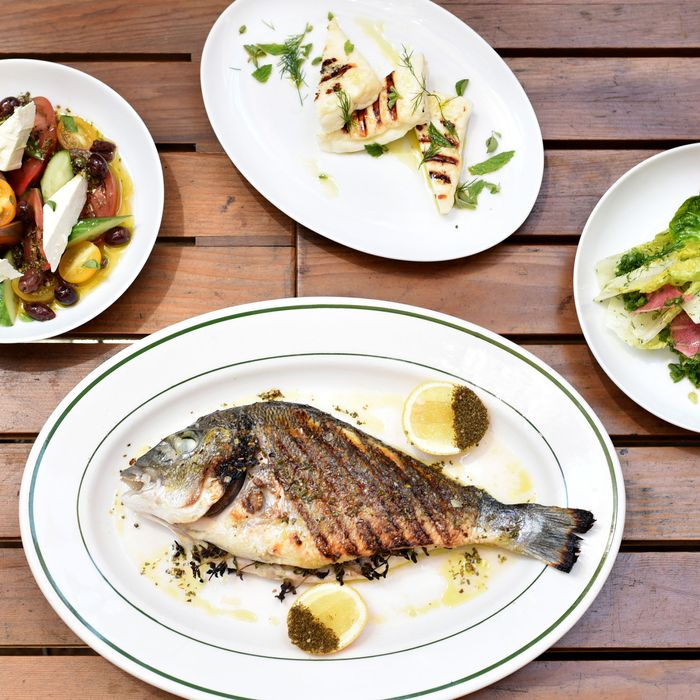 The Smile will serve an all-Greek menu on Sunday nights.
Photo: Danielle G. Adams/Courtesy of The Smile
It's almost August, which means three things: Lots of people are going on vacation, it's prime beach season, and the clock has started ticking on summer. (When did that happen?) If you're one of those New Yorkers who doesn't jaunt off to the Hamptons or wherever on the weekends, you are probably asking yourself: What can I do, without feeling like I'm melting? One answer is the beach, along with some more beach. But you'll also have to eat and, let's be honest about summer weather in the city, drink. With that in mind, here are eight ideas for food-and-adult-beverage-oriented things you can do on the weekends.
Have a Greek dinner at the Smile
When: Every Sunday
Take him to the Greek. Every Sunday going forward, downtown spot the Smile will switch out its usual Mediterranean menu for an evening of all-Greek dishes. Expect fried zucchini with tzatziki, the fried-cheese dish saganaki, grilled lamb shoulders, and lots of dips and flatbread.
Day drink at a beer-and-wine festival
When: August 12 from 2 p.m. to 8 p.m.
If you're going to day drink, why not do it at a big party? The fifth annual Tap+Cork will have 60 craft beers and wines to drink, along with live music, entertainment, and food to keep you soberish. Tickets ($30 to $60) come with 15 drink tickets (beer comes in three-ounce servings, wine in two-ounce).
Have lobster three ways
When: July 29 at 12 p.m.
Maybe you can't eat lobster on the beach this weekend. But maybe you can head to Dale Talde's Massoni, where they're hosting a pop-up ($65 per person) with a lobster bake, chilled lobster, and lobster rolls. They will, it's true, offer some other foods like shrimp, potatoes, and corn. Both food and beer are unlimited!
Hit up New York's only night market
When: 6 p.m. to midnight on Saturdays through August 19
Hosted adjacent to Corona's New York Hall of Science, the Queens International Night Market is, in a sense, Queens in a market. It's the city's most diverse collection of food vendors, a place where you and your friends can assemble a feast of Burmese tea-leaf salad, Taiwanese popcorn chicken, Brazilian pão de queijo, Valencian paella, and fried ice cream. That's just to name a few of the specialties offered by its 42 food vendors.
This weekend, have dinner at a farm — in Rockaway
When: July 29 and 30, 6:30 p.m. to 9 p.m.
If you're lounging in the city this weekend, there's a good chance you're heading to Rockaway anyway. Why not make a night of it, and drop by Edgemere Farm for a dinner ($60, tickets for Saturday and Sunday) made with produce grown on the half-acre urban farm and prepared by BK17 Bakery owner and cookbook author Sarah Owens?
Go to an eat-ice-cream party in Ditmas Park
When: July 30 from 2 p.m. to 6 p.m.
Miss the good old days of ice-cream socials? Head down to Ditmas Park this Sunday, where flower-shop-with-a-bar Sycamore will host local ice-cream-maker Wolfpints in its garden from 2 p.m. to 6 p.m. Because we're all adults now, they'll even recommend shots for different flavors.
Have a drink at New York's food museum
When: August 18 from 6 p.m. to 8 p.m.
This sounds like a food geek's ideal way to spend a Friday night: Williamsburg's Museum of Food and Drink will host one of its MOFAD Nights, giving guests (21 and over) a chance to check out its "Chow: Making the Chinese American Restaurant" exhibit while chatting with staff about what's in store. There will be food, and tickets ($20) come with two Brooklyn Brewery beers.
Pretend you have a backyard at Nowadays
When: Every Friday night through Sunday
Who said that if you're stuck in New York you've got to be stuck (drinking) inside? The city has some great outdoor bar and restaurant spaces, including Nowadays, which every day offers lawn games, lets you bring your pup, and has 16,000 square feet to lounge around in. But the weekends are for parties — every Friday and Saturday, they bring in different DJs to play vinyl sets from 8 p.m. to 2 a.m. — so you can feel a little less FOMO about your friends Instagrams of whatever it is they're doing in Montauk.