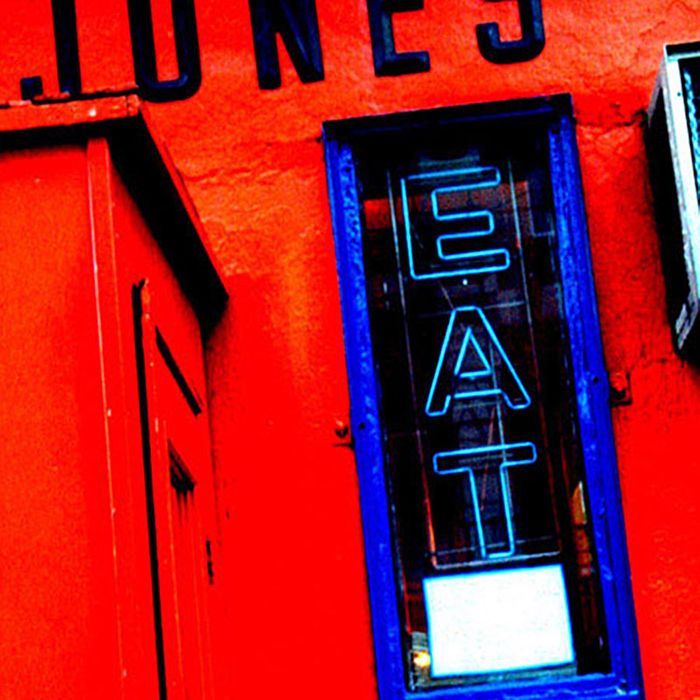 The famous exterior.
Photo: Konstantin Sergeyev
Update: A week after reports swirled that Great Jones Cafe would close, it was announced on Facebook that the restaurant will reopen.
Whenever I come home to New York City from New Orleans and my old friends and I are deciding where to go to eat and catch up, they're often thrown off that at the top of my list is Great Jones Cafe, the little box of a Cajun joint just off the Bowery in Noho. "Don't you want to go somewhere new?" they ask. "Or somewhere not New Orleans–y? Haven't you had enough?"
The answer is: No, I haven't. And now I want more. After 34 years in business Great Jones closed its screen door for good this past Wednesday night. It's always felt like home to me because it was simple, and good, and warm, and often kind of wild for a restaurant in a way that most places aren't. (Strong drinks and bathroom lines will do that.)
I want to go because I've never met anyone there — whether they were taking my order or eating their own meal inches away from me at one of the crammed-in tables — who I didn't like. I want to go because the classic Cajun and Deep South food (blackened catfish with jambalaya, fried oysters in a cornmeal batter) have always been on par with what I find in New Orleans. I want to go because it still offers a taste of the real downtown of the '70s and '80s. And I want to go because the buildings on that historic two-block street between Lafayette and Bowery — Romanesque, Renaissance, Classic Revival, and the beaux arts firehouse a couple doors up from Great Jones — have always moved me. Simultaneously beautiful and tough.
This part of the city has always had an undeniable pull: The street Great Jones was named after Samuel Jones, of the late 1700s, a lawyer known as "the Father of the New York Bar." The slang term "jonesing," legend has it, came from the junkies who made it their home in the 1960s. Charles Mingus was evicted from his loft at 5 Great Jones Street. He happened to be a junkie, too. Don DeLillo named a novel after it. The '90s alternative band Luna named a song after it.
When news started to spread that Great Jones Cafe would soon be no more, it was reported more busily than I expected, not only because it was a humble, ten-table spot, but because — like its chalkboard menu — you could read the writing on the wall for some time. Expired lease, rising rents, managerial table-turning. It's an old-hat story.
We all have our spots that anchor our time in the city, cafés and bars that remind us of our best years in New York. Marisa Acocella, the graphic novelist, New Yorker cartoonist, and ex-wife of Silvano Marchetto (Da Silvano, RIP, too), wrote me shortly after the news of Great Jones's demise that yet another solid spot, the West Village's French Roast — where Anna Wintour "vanted" to be alone — was closing the same week as our Little Cajun Café That Could.
"Great place," wrote photographer Paul Costello, also a New Orleans transplant who frequently "Jones'd" with me 15 years ago. For Costello, though, "it was the closing of El Sombrero that hit the hardest." (That one hit me, too — those Dixie Cup "crackaritas" sure hit the spot, and you could walk with them, New Orleans style.)
For me, it was Great Jones. I had lived in New Orleans out of college, waiting tables at two of the city's greats. When I came to New York City to be an editor at Interview magazine, it was at a time when the late Paul Prudhomme's "blackened" redfish craze of the 1980s was having its last Manhattan stand. Few New Orleans–themed restaurants lasted long. We loved Gulf Coast, over on the West Side Highway, but it was mainly for the sunsets and occasional live brass bands that second-lined there. (In fact, just around the corner from Great Jones was ACME, another New Orleans–themed spot that became a New Nordic venture and is now a French-Italian spot of the same name.)
Great Jones was far more authentic than its competition. It truly felt like it was airlifted in from a windswept Warehouse District corner of downtown New Orleans. But it was as New Yawk as it gets in terms of who frequented it, as well as the ghosts of the neighborhood that once called it home. (I used a freestanding coin telephone on the corner of Bowery and Great Jones, in front of what was then an auto-body shop more times than I'd like to admit — calling the troops to tell them that I was there.)
Ray Rogers, now executive editor of the Purist and back then, a cubicle mate at Interview, was my constant companion with our insular staff crew. "It was a hallowed favorite to me," Rogers says, "and though there was kitsch, it wasn't annoying: the bright orange façade, the handsome Elvis bust strewn with Mardi Gras beads staring out the opera window at the entrance."
It was also the last stop on our bar crawl from the Interview offices in Soho, which started at Fanelli's or Milady's, then went up to Temple Bar and on to Marion's Continental. Finally, around 9:30 or so, we'd get to Great Jones Cafe. As Rogers reminded me of this circuit, he wondered the same thing I did: "How did we ever get to work the next day?"