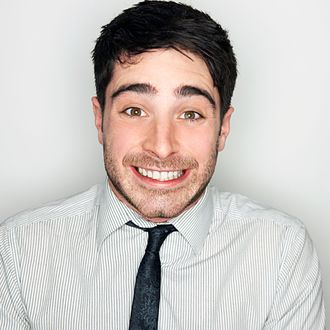 Shouldn't have had that third cup.
Photo: Tara Moore/Getty Images
A Texas-based coffee company is voluntarily recalling its very special "New of Kopi Jantan Tradisional Natural Herbs Coffee," because of undisclosed ingredients, including a substance with striking similarities to Viagra.
According to a statement from the FDA, which issued a warning about the stuff last year, Bestherbs Coffee LLC's uniquely exciting brew contains desmethyl carbodenafil, which is "structurally similar to sildenafil, the active ingredient in Viagra, and FDA-approved prescription drug for erectile dysfunction." (In less exciting news, the Tradisional coffee also contains "undisclosed milk.")
The concern here — besides the fact that someone hoped to sell coffee to help dudes with their erections — is that the "undeclared ingredient may interact with nitrates found in some prescription drugs, such as nitroglycerin, and may lower blood pressure to dangerous levels." So far, both the FDA and the company say there have been no reported health issues related to the stuff, but Bestherbs nevertheless expects to receive "a few hundred to a few thousand bags" of the brew from the recall, which will then be handed over to the FDA for destruction.
This isn't the FDA's first time at this particular rodeo: Last year, the less subtly named Stiff Bull Coffee faced a similar recall, the Washington Post notes, as did Caverflo Natural Herbal Coffee, which also contained the chemical and was recalled in May. In both of those cases, the brews were advertised as containing Tongkat Ali, the root of a tree found in Malaysian rain forests and thought to enhance sexual performance. But Tongkat Ali is expensive — which is why Stiff Bull claimed their sellers cut it with cheaper, easier to get desmethyl carbodenafil. It's possible the same thing happened here.
Luckily, there's some reason to believe that even coffee that does not explicitly contain secret erectile-dysfunction drugs could be a valuable, um, let's go with … "pick-me-up." No wonder those Starbucks lines are so long.