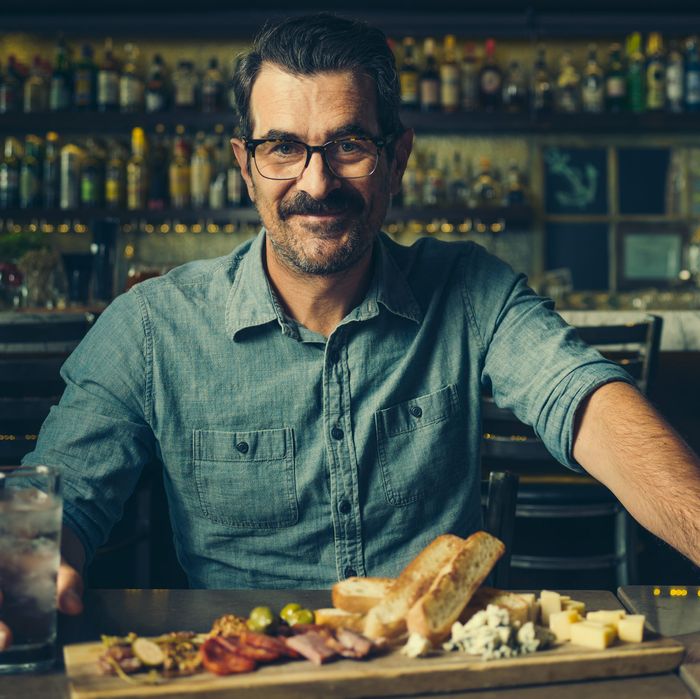 At Under Current, one of his favorite local Salt Lake City spots.
Photo: Chad Kirkland
Actor Ty Burrell is famous for playing Phil Dunphy on Modern Family (the king of dad jokes), but he's also, surprisingly, a restaurateur. Burrell co-owns three places in Salt Lake City, where he's lived for the past decade: Bar X, a historic cocktail bar that Burrell and his family refurbished in 2010; Beer Bar, where Food & Wine Best New Chef alum Viet Pham cooks; and the Eating Establishment, an all-day café in Park City. "I used to say that I was a foodie, but then my wife pointed out, after she went to culinary school, that I'm just someone who likes to eat a lot," he says. "I don't have a very discerning palate. I will eat anything you put in front of me, because I'm a savage, lawless animal." Read all about his brownie binge, camping excursion with his daughters, and affinity for "fry sauce" in this week's Grub Street Diet.
Thursday, July 13
This is just a terrible way to start a food diary, but I had coffee for breakfast. We had a family dentist appointment, and in the wrangling of children, I left the house with nothing but stains on my teeth.
I made up for no breakfast by ingesting thousands of calories at a local fast-food place north of Salt Lake City, Dylan's. I had a cheeseburger and fries with fry sauce (a Utah specialty, and also a specialty of experimenting children anywhere. It's just ketchup and mayonnaise combined). I drank a lime Rickey, which is Sprite (I'm assuming), grape juice, and lime wedges. It was weirdly wonderful.
Coffee and a spatula of the brownie batter from Holly's baking. When she enters the room with it in her hand to offer it to me, it's a feeling that I can only assume is akin to being knighted. My wife is a chef. She went to pastry school and graduated with honors and is very skilled in the kitchen. I'll just brag about her because she never would.
We had a family pool party, and I grilled pork and Gouda sausages with onions and mustard. The rest of the family did the hard work with baked beans, salads, etc. I had two Uinta Hop Nosh IPAs.
Afterward, we went down to our cocktail bar in downtown SLC, Bar X, and I had something that one of our bartender's, Seth Berteaux, made up. I'm assuming it's called a "tastes great," because that was what it did. I also had a Vieux Carré, which is a delicious cocktail invented in New Orleans, but you have to be careful with them or you'll wake up with a different identity. There are five of us in this ownership group, but I'm the one off living a shallow Hollywood life, and showing up and getting pat on the back for all their hard work.
Friday, July 14
I missed breakfast at the family BBQ, so I made up for lost time by eating two of the brownies my wife baked. I drank 100 cups of coffee.
We went to a local sandwich joint (growing nationally), Even Stevens, for lunch. For every sandwich purchased, they donate one to a local nonprofit. I, like a callused corporate shark, had a chopped salad. I drank an orange Pellegrino.
I had to fly down from Utah to L.A. for 24 hours or so, so at 7 p.m., I had chips and red wine on the plane. It was so revealing to write down what I eat because the only thing that keeps me on any kind of narrative is my wife. I'm indiscriminate. I have no ability to choose my food.
At about 10 p.m., at home in Los Angeles, I had smoked tuna and Olympia Provisions cured meat. I arrived to an empty fridge, aside from those two things. Olympia Provisions is an incredible company from Portland that we recently partnered with to make sausages for Beer Bar, our beer garden in Salt Lake City.
Saturday, July 15
Breakfast was a Kind bar and several spoonfuls of peanut butter. This sounds specific and on purpose, like I was in training or something. It was because we had a Kind bar and a jar of peanut butter in the cupboard.
Three handfuls of Marcona almonds for lunch. I don't know what's wrong with me.
After going to see my pals, and producing partners, in Sentimental Lady at UCB, we went to the Cat and Fiddle for a bite. I had bangers and mash, salad, and a Scotch egg. I drank a pint of IPA and had a whiskey on the rocks. We've been recording a podcast to be released later this summer about the nostalgia, emotions, and conversations that surround food and drink. It's called MouthFeelings. This meal was not recorded, but was delicious.
Sunday, July 16
Yogurt and coffee at the airport. The yogurts tasted very much like the plastic they were housed in. I ate two. I have a goat palate and accidentally ingest rotten food with alarming regularity.
Lunch was almonds and a banana and orange juice on the plane. I had coffee and Holly's brownie as a snack. Yep, same batch of brownies. (See: goat palate.)
For dinner, we headed up to Holly's family's regular Sunday dinner. Holly's sister, Jenny, did most of the work with pulled-pork tacos and corn. The rest of the meal was watermelon, chips, and salsa. I made none of these items and tried, failingly, to make up for it by cleaning up afterward. I drank mint lemonade.
When we got home, I ate a lot of Solstice dark chocolate. An awesome Utah company that makes my evenings delightful.
Monday, July 17
Holly's homemade granola and yogurt, with maple syrup and a little salt. I don't think Holly would approve of that combination, but she'll never read this because it's my diary, and she respects my privacy.
Lunch was the meat-and-cheese plate at Under Current. They're not usually open for lunch, but they opened it for the Grub Street photo shoot. This made me wonder if maybe I should always be doing the Grub Street Diet? Will restaurants just open whenever I want and give me food?
The only tragedy here was that I didn't have a cocktail. Amy Eldridge, the owner and manager, is an incredibly talented bartender (part of the late, great Sasha Petraske family tree) who worked at Bar X for years. Luckily, I've had many of her cocktails before and will have many in the years to come.
We went camping with the girls about a half-hour up the Wasatch Range from Salt Lake City. I had two Uinta 801 pilsners while I fished with the girls. We caught a lovely trout that we "let" go. (Dad couldn't get it into the net.) Our appetizer of Beehive Cajun cheese, olives, and Creminelli sausage (a Utah sausage-maker) was interrupted by an aggressive chipmunk that eventually, even though all four of us were standing sentry with sticks, made off with most of the cheese. I could only tip my cap. For the main course, I cooked tinfoil dinners (carrots, potatoes, kale, meatballs, and, I'm assuming, optimism wrapped in tinfoil) made by Holly, in the campfire. They were amazing. We drank rosé.