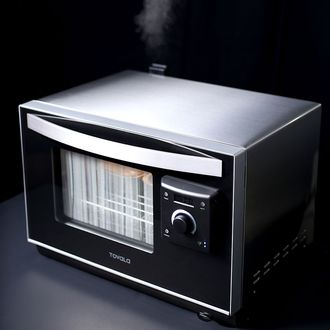 There in all its steaming glory.
Photo: Tim McCoy/Courtesy of Tovala
Convinced America needs more meal-kit options, yet another start-up has launched with the promise of delivering delicious, healthy, and effortless Wi-Fi-connected food. The supposed selling point of this company, Tovala, is that its special kits require a $400 smart oven that, of course, must be purchased separately first.
If that sounds like a barrier to entry, Tovala will happily justify the investment: Meals cost about $36 for three, require no assembly whatsoever, cook simply by scanning a bar code and pushing start, and will "learn" your cooking preferences over time (for well-done steaks, or what have you) and adjust automatically. Tovala's chief culinary officer is Alexander Plotkin, who cut his chops at Noma and Alinea, so there are some culinary bona fides. And the device itself is essentially a combi oven, a professional-grade (and -priced) device that Daniel Boulud once called "so versatile, you can wash and dry your dog in it." (He was kidding … hopefully.)
The service is already popular, even in its infancy. Prior to yesterday's launch, Tovala crowdfunded on Kickstarter, where 1,067 backers contributed $255,603. The Washington Post did a pretty thorough meal assessment ("pleasantly surprised" was the basic takeaway), and adds that the oven is totally able to cook food that's not in a Tovala packet, but CEO David Rabie "unsurprisingly" warns that the device operates best "when paired with the meal delivery service."
The potential problems are Tovala's vaguely Juicero-like aspect ($400 for an oven that might only cook meal kits nominally better than a regular oven) and push to market it to people who don't have enough time for Blue Apron. It's unlikely that group will care about owning a dumbed-down version of what Daniel makes eggplant custard in. In fact, tech blog the Verge — whose audience is definitely the Tovala target demographic — wrote about the oven, and kept calling the device "not a microwave."
Meal-kit companies' big challenge these days is how to hold onto subscribers. The attrition rate is very high: About half bounce after six months. Rabie argues they'll succeed because Tovala offers more than the novelty of DIY meal kits. "I think the reason they stopped using the service is that they don't want to cook three meals a week," he tells the Post. Instead, he hopes, Tovala's pricey, conspicuous countertop oven will guilt you into sticking around.