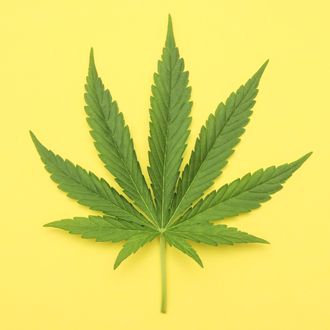 They had to get DEA permission to even plant the seeds.
Photo: underworld111/Getty Images/iStockphoto
There's a farm in upstate New York that grows cannabis with Governor Cuomo's blessing, but plot twist: The leaves won't get you high. That's because they're hemp, which is like diet Cannabis sativa, and the 100 acres' worth that JD Farms grows is used specifically for organic food products — a suddenly trendy industry that Cuomo himself predicts could bring billions to the state. JD Farms already sells its salad mixes, hemp pastas, and cold-pressed hempseed oil to an impressive clientele that includes Estela chef Ignacio Mattos, Whole Foods, and small-batch Brooklyn pasta-maker Sfoglini.
Many people treat hemp as quasi-legal, but it's a darling of the nutrition industry, which views it as a superfood equal to flax and chia seeds. Only soybeans have more protein, and hemp can supposedly boost the immune system, lower blood pressure, and suppress appetite. It also contains 20 amino acids, and a lot of omega-3s and -6s. Unlike marijuana, it has only trace amounts of THC — by law, less than 0.3 percent — and is better known for the incredibly strong fibers used in ropes, '90s jewelry, and Rainbow-brand sandals. But hemp-food companies are mostly after the seeds, which can be pressed into oil, processed into flour, or even shelled and sprinkled raw over yogurt. JD Farms got its break because one of its co-founders, Dan Dolgin, is a pro at lobbying lawmakers, after years navigating D.C.'s federal bureaucracy (he worked in counterterrorism, of all things). Cuomo signed a bill saying it's cool to grow hemp, and last March, JD Farms became New York's first farm to grow it in over 80 years. (It had to install an armed guard to plant the seeds.)
Hemp's fans aren't struggling to find culinary uses. Mattos says JD Farms' leaves are "grassy and sweet," and he's using them to garnish dishes like the Ibérico pork above. He also adds the oil to tomatoes and mozzarella, and is putting the seeds in desserts. At Sunday in Brooklyn, they're in the spice blend for chef Jaime Young's fried chicken. Finally, a baby-greens salad mix is debuting at Whole Foods stores in the Northeast at the end of this month. It's a combo of JD Farms' hemp leaves and kale from Long Island producer Satur Farms. Bloomberg reports it's "vaguely reminiscent of pot" and has a lemony, almost minty flavor.