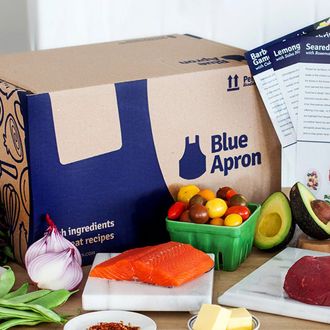 Meal kit and a movie.
Photo: Blue Apron
Blue Apron's stock has collapsed like a poorly made soufflé, but not all is lost … yet. A study published in the Proceedings of the National Academy of Sciences on Monday confirmed the essential truth of human life: People are lazy and feel good when other people do stuff for them. This is, apparently, positive news for services like Blue Apron, which saves you time by handling all the shopping, ingredient-sorting, and recipe work for you, so all you have to do is chop, season, and sauté.
The study's authors surveyed individuals in Canada, Denmark, the Netherlands, and the U.S., and argue that essentially purchasing free time leads to greater happiness. The researchers asked participants what amount of money they spend monthly on having someone else complete tasks they don't like doing and how satisfied they feel with their lives. The roughly 28 percent of participants who spent this money reported being happier than their counterparts who did their own damn chores. However, the study didn't include many people with low income, a.k.a. the individuals who might pick up Uber shifts just to make rent or be your app butler. The authors relent that it is quite possible that buying time won't increase the happiness of people who are figuring out how to meet their basic needs.
Speaking of Uber, this study also seems to apply to ride-hailing apps, too, and one company in particular appears to be doubling down on its potential customer happiness: Lyft has just announced the ability to add a pit stop at a Taco Bell drive-through to your Lyft route, meaning you can more easily than ever pay for someone to chauffeur you, and for someone else to make your dinner, so all you have to do is sit in the backseat and make your driver's car smell like a stale Chalupa. At long last, the future we were promised!