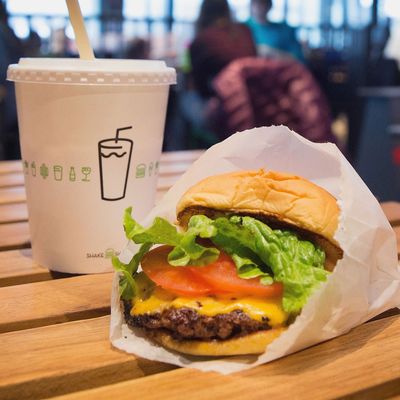 This burger is headed for Hong Kong.
Photo: Scott Olson/Getty Images
Over the last two years, Shake Shack has been on an expansion tear. Since announcing its IPO in December 2014, it has more than doubled its locations from 63 to, currently, 134. And next year, the burger chain will dip its toes into China when it opens a Hong Kong location. The restaurant is one of 14 planned locations in the city and neighboring Macau, and if all goes according to plan, the start of an expansion push into China.
The Hong Kong restaurant will be operated by licensee Maxim's Caterers, Ltd., which operates brands like the Cheesecake Factory there. Shake Shack CEO Randy Garutti tells Bloomberg the menu will be 90 to 95 percent the same, with the possibility for more chicken dishes.
The company has been a darling of the food world and a major success story, but it's recently experienced some hiccups. Same-store sales fell 2.5 percent during the most recent quarter, shares have declined 3 percent so far this year, and a report suggests that it struggles with customer loyalty. But Garutti says the company, which in its 2015 IPO filing announced plans to open 450 American locations, remains committed to serious growth in the U.S.