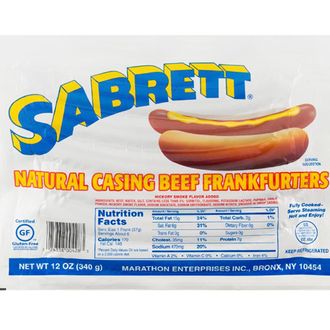 Stick with Nathan's for now.
Photo: Sabrett
The supermarket version of a common snack sold on New York streets is being recalled for pretty disgusting reasons. Sabrett — maker of hot dogs that are as New York as "the Empire State Building" — warned over the weekend that about 7 million pounds of wieners sold to retailers might be contaminated with rogue pieces of bone, so they should be destroyed ASAP. The USDA has a full list walking through all the affected products, but it seems to include the hot-dog wieners and cocktail sausages produced at a Bronx plant between March 17, 2017, and July 4, 2017. The questionable items vary in size from 12-ounce packs to three-pound cases of franks, and they all carry a sell-by date of June 19, 2017, to October 6, 2017.
"The recall was initiated after customers reported small pieces of bone and cartilage being found in these products," the company writes in its notice. It adds that workers "immediately" identified the source of the problem, though apparently not before a customer chomped into a contaminated frank, suffered a "minor oral injury," and reported it to the USDA. The agency has labeled it a Class 1 recall, meaning a health hazard that presents a "reasonable probability" of causing "serious, adverse health consequences or death" if consumed.
Sabrett has been around for four generations in New York. It provides the "official" hot dog at Madison Square Garden (along with nine other sports stadiums), and its blue-and-yellow-umbrellaed pushcarts are familiar sights around town. It also supplies wieners to Papaya King, Western Beef supermarkets, and several other spots in New York. Sabrett encourages people to throw away store-bought packs affected by the recall, then contact the company, which says it will be "pleased to provide a full refund."