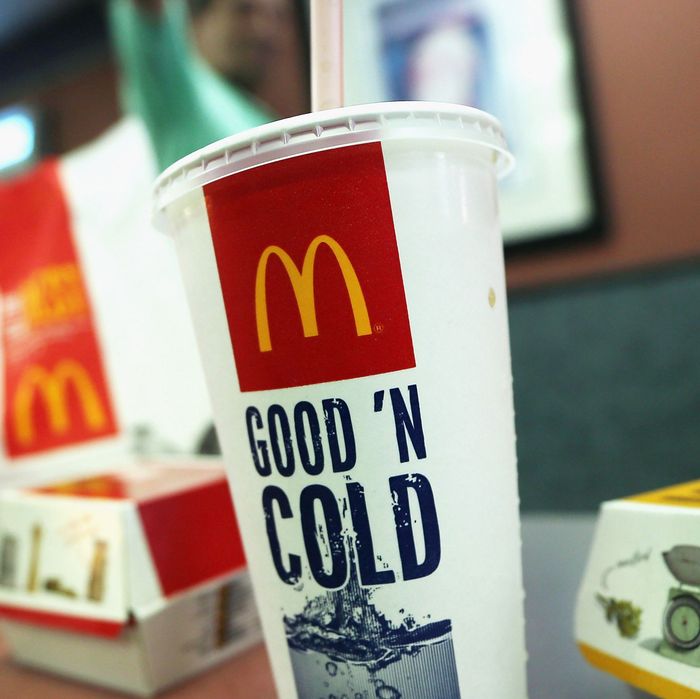 Maybe … no ice today.
Photo: Mario Tama/Getty Images
Fecal coliforms: That's the secret ingredient in the biggest fast-food chains' iced drinks. An investigation by the BBC consumer series Watchdog found that United Kingdom locations of Burger King, KFC, and McDonald's all serve ice contaminated by the bacteria. Out of ten samples tested at each of the three chains, coliforms were found in three of McDonald's drinks, six of Burger King's, and seven of KFC's.
The report follows another released earlier this summer, in which Watchdog found that fecal coliforms are present in a number of coffee chains' iced beverages. This includes Starbucks, where the bacteria showed up in 30 percent of drinks. The lesson here, of course, is that if you're drinking iced beverages at chains, there's a good chance there's poop bacteria in your extra-large Coke or Cheesecake Frappuccino. These findings aren't, well, entirely surprising: Fecal coliforms are tough buggers that apparently dig ice machines, and there are a lot more poop particles in our lives than anyone wants to admit.
In a statement, a KFC spokesperson said, "We are shocked and extremely disappointed," while Burger King confirmed it cares a lot about "cleanliness and hygiene." Always looking at the McFlurry half-full, McDonald's says it will "review our procedures and training," but also cited comments by a bacteriology and food-safety professor who says, "It is pleasing that Escherichia coli (E. coli) … was not found." So, yeah, there's poop bacteria in your fast-food drink's ice — but at least you won't get killer diarrhea!