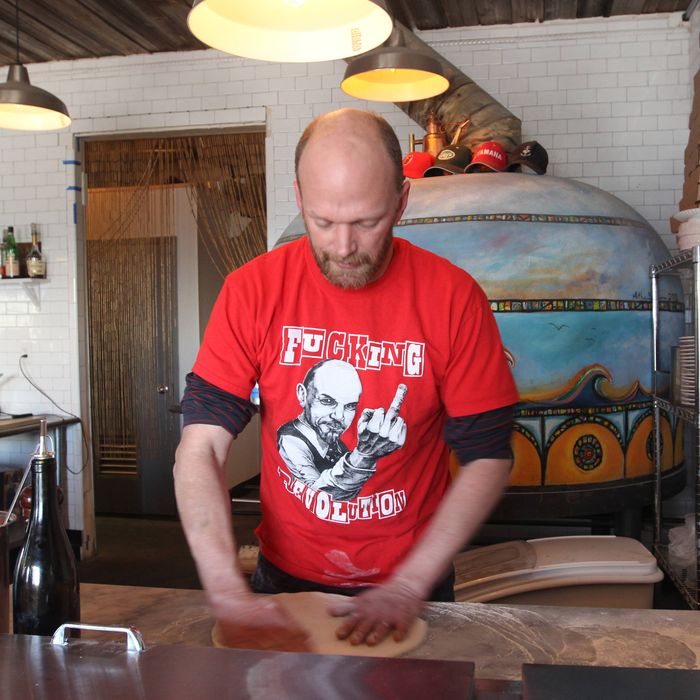 Whitney Aycock.
Photo: Melissa Hom
The saga of the Pizza Nazi continues. On Monday, Rockaway chef Whitney Aycock was kicked out of the Riis Park storefront where he ran Slice o' Whit for being the offensive individual he is well-known to be. A slew of complaints prompted the National Park Service to evict Aycock for being too "vulgar," something they never could've predicted based on his nickname, the Pizza Nazi, and tendency to say things to customers like, as he was once quoted by Grub, "If you want a slice, go to Elegante's. I don't give a fuck."
Aycock shared the eviction notice (along with a packet of Sugar Highs' hash-infused lollipops) on his Instagram. The letter cites complaints from park patrons about profanity-laced music, an instance of him responding to one such complaint by blasting the music in a woman's face, complaints from staff that he disrupted a free movie night by blasting music and refusing to turn it down, failure to seek approval for modifying a historic structure, and more.
This is only the latest episode in Aycock's larger-than-life drama. In January, he was busted for — no joke — stealing an entire Stefano Ferrara pizza oven out of his shuttered restaurant Whit's End. The month before, he reportedly pleaded guilty to growing pot in his restaurant. Aycock had previously denied the charges, and when the cops arrested him, he reportedly screamed, writhed, and cursed on his way out.