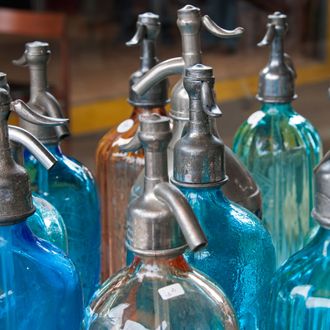 Spritzing into the sunset.
Photo: Krzysztof Dydynski/Getty Images/Lonely Planet Images
Back in the fizzy-water golden days, New York had hundreds of seltzer men, dozens of filling stations, and thousands of customers who needed bottles replenished every week. Then SodaStream happened, the baby-boomers all left for Florida, and people started making "organic" sparkling water. Times sure have changed, and the city's latest reminder has arrived with the retirement of Eli Miller, the man who did for the spritz what Seinfeld's Soup Man did for bisque. He's 84, watched Willie Mays play baseball, and has been delivering seltzer to New Yorkers for almost 60 years. Only now, in 2017, did he decide he can't keep schlepping his giant cases to people's front doors.
A favorite character of the New York Times Metro desk, Miller was the subject of this mini-doc back in 2013, at the spry young age of 79:
And he gets a touching send-off in today's paper, where he's called the "affable senior statesman of the handful of remaining seltzer deliverymen." It's clear he had a loyal clientele:
Mr. Miller said customers often asked him to join them for meals and invited him to family functions. Some leaned on him for emotional support, including a New York City Fire Department captain haunted by the randomness of having survived the collapse of the World Trade Center on Sept. 11, 2001, when the men he sent in to the towers did not.

"I was their confessor," he said of such customers, "their family priest."

The route even claimed his own father, he said. He died of a heart attack while helping his son carry cases of seltzer up some stairs.
Fittingly, Miller is passing the baton to a rival of sorts — a guy named Alex Gomberg, who the Times notes is both a fourth-generation seltzer man and, at 29, the city's youngest. Gomberg hopes he can woo New Yorkers with newfangled things like a website, the option to pay by credit card, and ads on social media. His prices are a bit steeper ($40 per case, versus the 30 bucks and change Miller charged), but Gomberg says the customers he's lost so far haven't been due to the cost. "People said they didn't do it for the seltzer — that they did it for Eli," he tells the Times.